Police to challenge public sector pension changes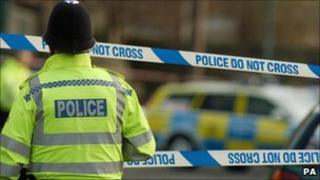 Police are launching a legal challenge against the government's decision to change the way pensions are calculated.
The Police Negotiating Board says pegging public sector pensions to the Consumer Price Index (CPI) rather than the Retail Price Index (RPI) will have a "considerable" downward impact.
It says the changes announced in last year's Budget effectively "pick the pockets" of officers across the UK.
The Treasury said switching to CPI would save £11bn a year by 2015-16.
'Underhand'
The changes affect the way pensions are "up-rated" to ensure pension pots are not eroded by rises in the cost of living.
The Police Negotiating Board says by switching to the CPI measure, public sector pensions will effectively be downgraded at a time when officers are already feeling the financial squeeze and impact of government cuts.
The CPI method of calculating inflation - which does not include housing costs - is usually lower than the RPI definition.
Accusing ministers of double standards, the chairman of the Staff Side of the Police Negotiating Board, Paul McKeever, said: "When the government wants to increase taxes, it uses RPI, but when it has to pay pensions it uses CPI. What is sauce for the goose is sauce for the gander.
"In the space of a few weeks this government has published reports that seek to take money and allowances from police officers as well as the prospect of increased contributions and having to work longer to qualify for a police pension.
"On top of that they are effectively picking the pockets of police officers through this change.
"We will challenge this robustly, and through application for judicial review, will seek to expose the government's underhand approach and right this wrong."
The action, to be launched on Monday with the lodging of papers at the High Court in London, is being brought by the Staff Side of the Police Negotiating Board, the National Association of Retired Police Officers, the Civil Service Pensioners' Alliance, and the GMB, FDA, and Prospect unions.
A Treasury spokesperson said: "The change to CPI - the measure used to set the inflation target for the Bank of England - will save in total £11bn a year by 2015-16.
"Unlike RPI, the CPI index is designed to take account of the fact that consumers tend to shop around, switching to cheaper alternatives when prices for similar goods change."
While RPI only measures how prices are increasing, CPI also involves measuring how consumers react to price rises, for example by buying cheaper goods in place of more expensive ones, thus lowering their overall personal cost of living.
A Department for Work and Pensions spokesperson said: "We stand by our policy to move to the CPI for the up-rating of pensions and benefits - it is an internationally recognised measure of inflation and is the Bank of England's preferred measure."