Newspaper review: Papers hail England's Ashes victory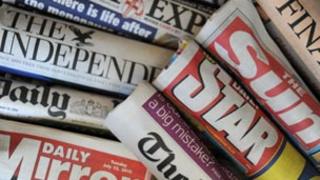 The first editions went to press before the start of the final day's play - but most papers celebrate what the Guardian describes as "England's finest hour".
That is, of course, the 3-1 victory in the Ashes series which was sealed in the early hours of the morning.
"Heroes" is the single word headline on the back page of the Daily Mail.
The paper says the "era of Australian greatness" has come to a "crushing end" while another takes hold - "the era of English dominance".
'Competitive humility'
"I've been waiting a long time to write this story", says the Times's chief sports correspondent, Simon Barnes.
He, along with colleagues on other papers, makes the most of England's first Ashes series triumph in Australia for nearly a quarter of a century.
England, James Lawton writes in the Independent, have now moved into a "superior league".
The greatest achievement was their embrace of "competitive humility", plus a refusal to rest on their laurels.
'In the dock'
The Daily Telegraph claims detectives are likely to reopen the investigation into phone hacking allegations at the News of the World.
This is in the light of the suspension of the newspaper's assistant editor.
According to the Independent, the Metropolitan Police are "in the dock", facing growing calls for another force to take over the case.
"The truth is being extracted painfully," says the Guardian. "This state of affairs cannot continue."
Radio 'mauling'
Ed Miliband's performance as Labour leader was the main topic for discussion on Jeremy Vine's programme on BBC Radio 2 on Thursday.
And the Sun says Mr Miliband suffered a "mauling" at the hands of listeners.
The Daily Express says his new year fightback ran aground as he faced an extraordinary storm of criticism.
The Labour leader, says the Daily Mail, found himself "under siege, with only occasional musical interludes lightening the gloom".