Spending Review: Schools budget 'to escape cuts'
16 October 2010

From the section

UK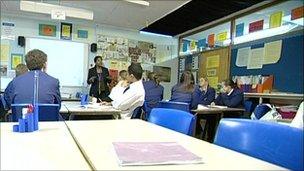 Ministers have agreed the schools budget for England and are to claim schools will be protected from across-the-board cuts, the BBC has learned.
Other government departments have been asked to make even deeper cuts than previously agreed to help fund this.
Labour said the government was also appearing to admit the funds for a planned "pupil premium" would come from within the schools budget.
The coalition government's Spending Review will be announced next week.
The BBC's Nick Robinson says the government hopes this will be seen as a piece of "good news" out of the cuts.
Deputy Prime Minister Nick Clegg had earlier announced plans for a "pupil premium" - extra spending on the most deprived children - but it was not clear whether this extra funding would simply be wiped out by other cuts to school budgets.
BBC political editor Nick Robinson says it is understood that next week ministers will claim that when the pupil premium is added to the rest of the schools budget, they have secured a small real terms increase.
The new pupil premium could see the budgets of some schools increase, while other schools face a decrease since their funding will depend, in part, on the number of poorer children they educate.
However, even those schools which receive small spending increases will find their budgets very tight in comparison to the significant spending increases they have seen in the last decade.
In addition, school rolls are projected to increase by around 80,000 over the next four years, so there will be even less of an increase per pupil, according to our correspondent.
The protection of the schools budget will not apply to the rest of the Department for Education budget, which will see a significant cut.
This will compare with an increase in spending on education of 4.3% on average each year under the last Labour government and 1.5% under the last Conservative administration.
Politically, however, according to Nick Robinson, ministers see a real terms increase in school budgets as a significant political prize allowing them to match and, perhaps, exceed the promise of the last schools secretary, Ed Balls, to increase the schools budget by 0.7% in real terms in the next two years.
Labour shadow education secretary Andy Burnham said it was hard to judge the announcement without having access to the full details.
He said: "But beyond the smoke and mirrors, there appears to be an admission that the pupil premium is not additional to the schools budget but recycled from within it.
"This is the key question that Nick Clegg has to answer, and if he cannot, then his flagship achievement out of the coalition is nothing of the sort.
"There's nothing fair about a premium that the Institute for Fiscal Studies says would 'widen inequalities in funding for deprived pupils'," he added.
The devolved administrations in Scotland, Wales and Northern Ireland set their own education budgets.