Pope visit: Crowd's reaction to Twickenham Big Assembly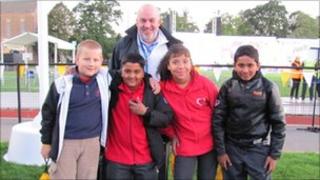 Pope Benedict XVI was only at St Mary's University College in Twickenham for a few hours but his brief stop had a marked effect on the thousands of young people gathered there to hear him speak up close and personal.
For Lauren Nelson, a 10-year-old pupil from Sacred Heart primary in Leicester, this was something she had been waiting for the entire week.
She said she had even had a nap on the journey down, just so she would be "wide awake to meet the leader of the Catholic Church" during his first state visit to the UK.
Just a few feet away, nine-year-old Jade Kasumu, from St Anne's Catholic primary school in Chertsey, jumped up and down in her green uniform as she said she had never seen the Pope before but she knew all about him thanks to her school assemblies.
Tight security
Stringent security meant many children had an early start as they made their way across the UK.
Although The Big Assembly - as the event was known - was going to be broadcast live on the internet, nothing, those on the green repeated time and time again, would compare to being close to Pope Benedict XVI.
It was, as Birmingham teenager Vanessa Kalinda said, "a once-in-a-lifetime opportunity".
And Thomas Dobie, 16, from St Ninian's High School in Giffnock in Glasgow, said he felt privileged and honoured at the prospect of meeting the "most important person in the Catholic faith".
Despite the security scanners, sniffer dogs and police officers on patrol, the atmosphere inside the campus was quite jovial.
Even the protests taking place outside did not dampen people's spirits and instead were welcomed by many.
Protests
Among the demonstrators were those from lesbian, gay and transgender groups - with at least three scantily clad men dressed as angels trying to make their voices heard.
Parents with young children and local residents also picketed the main entrance - all there for a variety of reasons.
Some were concerned about the child abuse scandals and others about the Church's attitudes to the rights of women and gay people.
Local resident Ben Carey said he thought it was important to turn up and support the protest.
He said: "The Pope is not welcome in this country as a head of state. I have nothing against individual Catholics or priests."
St Mary's University student Sinead Gallagher, who lives on campus, came as the event was right on her doorstep.
While not supporting the protesters, she said it was important and right for them to have their say.
"I hoped to see protesters standing up for what they believe in. It would be naive to think they wouldn't come."
'Amazing'
When the crowd found out the Pope was in a nearby building, they cheered. When the Popemobile came into view, they went wild.
People clamoured to touch his hand and when he was visible on the large screens set up either side of the stage, most people stayed rooted to the spot, watching him.
When the Pope spoke, everyone listened, and although it felt much like we were at a festival - what with the goody bags, the picnics, and the silver space blankets doubling up as rugs on the damp grass - it was clear that this man was someone very special to the gathered crowd.
As he spoke of the importance of education and urged young people "not to be content with second best", the crowd murmured in appreciation.
He paid tribute to the John Paul II Foundation for Sport - a project launched that day urging young people to become more passionately involved with sport, especially in the run-up to the London Olympics.
Flags waved as he spoke and the faithful repeated his words.
For Aoife Oughton, 10, from Notre Dame School in Woolwich, this day was one of her best yet.
She said: "It was amazing. I can't believe he's so close to us."
For teaching student Miss Gallagher, who had admitted before the event began that some of her friends had wanted to come along far more than she did, the Pope had impressed.
She said: "I didn't know what to expect before but it's encouraging that the Pope holds education in such high regard.
"I'm certainly going to keep an eye on what his next moves are while he is in the UK after this."
When the Pope left, much like the Pied Piper of Hamelin, the schools and the children followed him immediately.
As the crowds tried to leave, Angela Joji, 10, from Sacred Heart school in Northallerton in North Yorkshire, said she and her friends had a nine-hour journey home but "it was worth it to see the Pope".
But when asked about their favourite moment of the day - they all answered the same: "The Popemobile."