David Cameron offers 'warm welcome' to Pope in video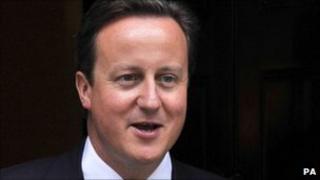 Prime Minister David Cameron has recorded a video message in which he says the Pope will be offered a "very warm welcome" on his UK visit.
In the video, posted on the No 10 website, he said the Pope's four-day stay was "incredibly important and historic".
Benedict XVI is the first pope to make a state visit to the UK.
And the Roman Catholic Church in England and Wales has denied there is a lack of enthusiasm for the papal visit.
Its leader, Archbishop Vincent Nichols, said he was sure "Catholics are looking forward to this visit very much indeed".
His comments come after it was revealed that thousands of tickets remained unsold for events during Pope Benedict's UK visit.
'Common good'
In his message, Mr Cameron said the visit will be "a very special four days, not just for our six million Catholics, but for many people of faith right across Britain and millions more watching around the world".
He added: "It's a unique opportunity to celebrate the enormous contribution that all our faith communities make to our society and to celebrate their role in helping to build a bigger and stronger society."
The prime minister also said society should be about "more than materialism" and should instead be about shared values and working for the common good.
He went on to say: "Of course, not everyone will agree with everything the Pope says, but that should not prevent us from acknowledging that the Pope's broader message can help challenge us to ask searching questions about our society and how we treat ourselves and each other.
"The Holy See can also be a partner for us with great influence across the world and we have incredibly important work to do together on fighting poverty and disease, on winning the argument to get to grip with climate change, and on promoting a multi-faith dialogue and working for peace across our world."
Meanwhile, former Prime Minister Tony Blair has paid tribute to Pope Benedict, comparing him to Cardinal Newman, who will be beatified by the Pope on Sunday.
Writing in the Vatican's daily newspaper, Osservatore Romano, Mr Blair said: "The intellectual courage [of Cardinal Newman] is admirable. It's something that many Catholics find in the person of Pope Benedict XVI."
A converted Catholic, John Henry Newman was made a cardinal by Pope Leo XIII, before dying in Birmingham in 1890, aged 89.
Unfilled places
The largest organised event during the Pope's visit to England and Scotland is an open-air Mass at Bellahouston Park in Glasgow on the opening day of his trip to the UK.
The capacity has been reduced to 80,000 after a slow take-up of tickets.
Dioceses in England and Wales have also reported thousands of unfilled places for a London vigil, and the service to beatify Cardinal Newman in Birmingham.
Archbishop Nichols said he expected 54,000 to 55,000 people to attend the 60,000-capacity event, which requires a "pilgrim pack" costing up to £25 for entry. The London vigil takes place in Hyde Park on Saturday.
Motorists in Scotland are expected to experience major delays and diversions in Glasgow and Edinburgh, as the cities prepare for the visit of the Pope.
About 100,000 people are expected to line Edinburgh's streets to welcome Pope Benedict on Thursday.
Meanwhile, Pope Benedict's visit has already sparked some controversy.
The leader of the largest Protestant church in Northern Ireland, Dr Norman Hamilton, has turned down the opportunity to be presented to the Pope after a service to be held at Westminster on Friday, because of "troubling issues" which needed to be addressed.
And the cost of policing the trip will be up to £1.5m, the Association of Chief Police Officers has estimated.
Lord Patten, the prime minister's representative for Pope Benedict's visit to the UK, reaffirmed that the total cost of the Pope's stay to the taxpayer would be between £10m and £12m.
The Catholic Church is also expected to make a contribution of between £9m and £10m towards the costs.
A BBC poll ahead of the Pope's arrival found almost six-in-10 British Catholics asked said their faith was not "generally valued" in British society, but 70% expected the visit to help the Catholic Church in the UK.