Profile: Andy Coulson
20 November 2014

From the section

UK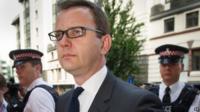 No 10's former spokesman once reached dizzy heights before coming crashing down as a result of the phone-hacking scandal.
Andy Coulson rose to head one of Britain's most famous newspapers and became a trusted member of the prime minister's inner circle, but ended up in jail.
When he stepped down from his role as Prime Minister David Cameron's communications director in January 2011, he blamed the continuing row over phone hacking, saying it was difficult to give the "110%" he needed in the role.
The ever-expanding row presented the 46-year-old with ongoing distractions - he was arrested in July 2011 over phone hacking at the News of the World (NoW) and corruption allegations.
Then on 24 July 2012, the Crown Prosecution Service said he was being charged with conspiracy to illegally intercept communications.
Coulson was to face four charges - which he said he would fight - linked to accusations of accessing phone messages.
These were of murdered schoolgirl Milly Dowler, former Labour home secretaries David Blunkett and Charles Clarke, and Calum Best - the son of the late footballer George Best.
Starting out
Coulson was born and brought up in Wickford, Essex, and educated at the local state school, Beauchamps Comprehensive.
The devoted Tottenham Hotspur fan began his career at the Basildon Evening Echo, before joining the Sun and rising rapidly through the ranks of News International.

Timeline
1986 - Andy Coulson starts work at Basildon Evening Echo
1988 - He joins The Sun
1994 - Has a brief stint at the Daily Mail before returning to News International
2003 - Becomes editor of the NoW
Jan 2007 - Resigns on same day as Clive Goodman is convicted
Jul 2007 - Becomes the Conservative Party's director of communications
May 2010 - Following the general election he takes up a similar job in Downing Street
Jan 2011 - He resigns
Sept 2011 - Takes legal action against his former employer after it stopped paying his legal fees in relation to the phone-hacking scandal
May 2012 - Gives evidence at the Leveson Inquiry into press ethics
July 2012 - Charged with conspiring to intercept communications by Met
July 2014 - Coulson is jailed for 18 months for conspiracy to hack phones

His progress led to him being poached to briefly work at the Daily Mail before he was tempted back to the Sun where he edited the Bizarre gossip column.
He went on to become the NoW's deputy editor in 2000, and succeeded Rebekah Wade as editor three years later.
His reign saw a string of old-fashioned tabloid exclusives, lifting the lid on the private lives of David Beckham, David Blunkett and Sven-Goran Eriksson.
The paper won the Press Gazette Newspaper of the Year award in 2005.
When he won the award, Coulson was quoted as saying: "The NoW doesn't pretend to do anything other than reveal big stories and titillate and entertain the public, while exposing crime and hypocrisy."
He quit as NoW editor in January 2007 on the day Clive Goodman, the paper's former royal editor, was jailed for four months for phone hacking.
Coulson said he took "ultimate responsibility" for the scandal, even though he maintained he was unaware of any phone hacking by his journalists.
His resignation statement said Goodman's actions were "entirely wrong and I deeply regret that they happened on my watch".
A Press Complaints Commission investigation in May 2007 found no evidence that he or anyone else at the paper had been aware of Goodman's activities.
Later that year Coulson became the Conservative Party's director of communications.

Find out more

Listen to BBC Radio 4's profile of Andy Coulson

Reports suggested he had been hired on a salary of about £475,000.
At the time of the appointment, a Tory spokesman said the party was satisfied Coulson had not been to blame for the phone-hacking scandal.
Coulson then played an important role in building support in Fleet Street for Tory leader David Cameron. In particular, he is credited with helping get the pre-election endorsement of the Sun.
Tim Montgomerie, editor of the ConservativeHome blog, said Coulson's tabloid touch and right-wing instincts brought much-needed balance to the Cameron team.
However, he was accused by one former senior Tory press officer of being a divisive figure.
Growing pressure
The New Statesman alleged he was "micro-managing" his staff, and had insisted that he sanction every announcement and policy decision personally.
When the Conservatives entered government in a coalition deal with the Lib Dems in May 2010, Coulson followed Mr Cameron into Downing Street on an annual salary of £140,000.
Although working in the background, Coulson was a key figure in the new administration, and drew comparisons with Tony Blair's former director of communications, Alastair Campbell.
But, as revelations about the NoW's activities grew, pressure mounted on him to resign his politically sensitive post.
In November 2010 he was interviewed as a witness by police.
Shortly afterwards the director of public prosecutions, Keir Starmer, said no new charges would be brought in the case, owing to a lack of admissible evidence.
But the Crown Prosecution Service later said it would review all the material held by police about phone hacking at the NoW.
Criminal charges
A fresh investigation into phone hacking followed after Scotland Yard received "significant new information".
Police said they were contacting almost 4,000 people whose names appear in documents seized in 2005.
News International later closed the NoW.
In September 2011 Mr Coulson's lawyers filed papers at the High Court against News International subsidiary News Group Newspapers.
This marked the start of his legal action against his ex-employer, after it stopped paying his legal fees in relation to the phone-hacking scandal.
He appeared before the Leveson Inquiry into media ethics in May 2012, shortly before being arrested and charged with perjury by Strathclyde Police.
Later that same year he was charged by Metropolitan Police with conspiring to intercept communications.
Eventually he was jailed, in July 2014, for 18 months, his glittering career shaping major news stories and working at the heart of government left in tatters.