News of the World hacker Mulcaire told to give evidence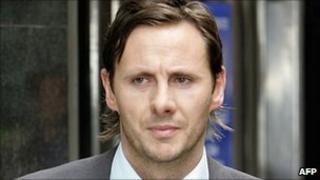 A judge has ruled that a private detective convicted of phone hacking over his work for the News of the World must give evidence in other cases.
Mr Justice Vos said Glenn Mulcaire had to provide information about whether other journalists at the paper were involved in accessing voicemails.
The judgement relates to the cases of comedian Steve Coogan and sports commentator Andy Gray.
Mulcaire was jailed in 2007 for hacking into the mobile phones of royal aides.
He was jailed for six months, while the News of the World's former royal editor Clive Goodman was jailed for four.
Fresh investigation
High Court judge Mr Justice Vos said Mulcaire would not be allowed to claim he could not give evidence for fear of incriminating himself.
Mr Justice Vos said there was "abundant evidence" Mr Gray's voicemails were intercepted and a "strong inference" that misuse was made of the confidential information.
He said information disclosed by News Group Newspapers (NGN), publishers of the News of the World, had been meagre.
"I have no evidence as to whether there are justifiable reasons for that, but NGN has, as yet, disclosed none of its telephone records or electronic documents, which might be expected to show whether its journalists were making use of intercepted information emanating via Mr Mulcaire, from Mr Gray's voicemails," he said.
The judge said it was also a fair inference that Mulcaire had the wherewithal to intercept Mr Coogan's telephone and that he was likely to have done so.
Mulcaire has never admitted accessing the voicemails of Mr Coogan and Mr Gray.
BBC home affairs correspondent Tom Symonds said the decision was likely to be subject to an appeal and there would be a delay before any evidence was submitted by Mulcaire.
Lawyers for Mr Gray and Mr Coogan have asked Mulcaire to provide written details on several issues.
They want to know who at NGN asked Mulcaire to intercept the phones of Mr Gray and Mr Coogan.
They want details of when this was requested, when the voicemails were hacked, the names of those the information was passed to, and the names of anyone who Mulcaire taught how to access phones.
Mr Coogan and Mr Gray are suing the News of the World for breach of privacy after the Metropolitan Police confirmed their personal details were in the possession of Mulcaire following a raid on his house.
Others taking action include actress Sienna Miller, politician George Galloway, TV presenter Chris Tarrant, jockey Kieren Fallon, and interior designer Kelly Hoppen.
Mr Justice Vos, who was told 14 people were now suing over phone- hacking allegations, has called on lawyers to combine the actions to save court time and costs.
In January, the Metropolitan Police launched a fresh investigation into phone hacking, with senior QC Alison Levitt brought in to re-examine prior police evidence.