Damian Green says burka ban would be 'un-British'
18 July 2010

From the section

UK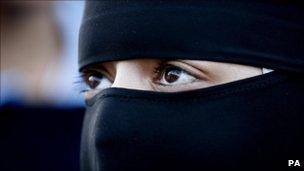 Banning the wearing of the Islamic full veil in public would be "un-British", the immigration minister has said.
Damian Green told the Sunday Telegraph trying to pass such a law would be at odds with the UK's "tolerant and mutually respectful society".
It comes after Tory MP Philip Hollobone introduced a private members' bill which would make it illegal for people to cover their faces in public.
Last week French MPs voted to ban the wearing of full face veils in public.
The bill, which was overwhelmingly approved by France's lower house of parliament, must now be ratified by the Senate in September to become law.
If it is passed, it will be illegal to wear garments such as the face-covering niqab or body-covering burka, anywhere in public.
Several other European countries including Spain, the Netherlands and Belgium have debated regulating the use of face covering garments.
But Mr Green said such a move was "very unlikely" to be copied in the UK.
"Telling people what they can and can't wear, if they're just walking down the street, is a rather un-British thing to do," he told the Sunday Telegraph.
"We're a tolerant and mutually respectful society."
Catherine Heseltine from the Muslim Public Affairs Committee said MPs should not waste their time discussing it.
She said: "Britain is a free country. We value our freedoms and we don't want MPs or the government telling British citizens what they can or can't wear.
"How does it hurt anybody else if a woman chooses to wear a small piece of cloth across her face?
"Quite frankly, MPs, there's a £160bn debt; shouldn't they be busier worrying about what they're going to do about that, than a small piece of cloth that a few women choose to wear?"
The Environment Secretary, Caroline Spelman, agreed saying: "I take a strong view on this, actually, that I don't, living in this country, as a woman, want to be told what I can and can't wear.
"That's something which both myself and (community cohesion minister Baroness) Sayeeda Warsi have argued very strongly, that one of the things we pride ourselves on in this country is being free - and being free to choose what you wear is a part of that.
"So actually banning the burka is absolutely contrary, I think, to what this country is all about."
'Aggressively secular'
Mr Green said there were occasions when it was important to be able to see someone's face, but insisted that "it's very unlikely and it would be undesirable for the British Parliament to try and pass a law dictating what people wore".
The minister said that, unlike France, the UK was not "aggressively secular".
It comes after fellow Conservative MP Mr Hollobone, who put forward the Face Coverings (Regulation) Bill, declared that he would not meet burka or niqab-clad women at his Kettering constituency surgeries unless they lifted their veils.
He has previously described the burka as "offensive" and "against the British way of life".
Shadow justice secretary Jack Straw, who sparked controversy in 2006 when he revealed he asked constituents to lift their veils, said he was opposed to a ban.
The former minister said he was "seeking to generate a debate within a framework of freedom", adding that about half agreed to his request and half refused.