UK
Top Stories
Britons caught up in Nepal disaster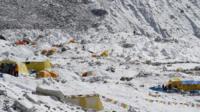 A UK couple on their honeymoon are among the Britons who have told of being caught up in the Nepal earthquake and subsequent avalanches in the Everest region.
Labour plan to cap rental increases
Private landlords would not be able to increase rents by more than inflation for three years under Labour plans to give tenants more security.
The Papers
'Shaken to the core'
The earthquake in Nepal is Sunday's top story, with the papers highlighting missing Britons, as well as fearing that a humanitarian crisis may unfold in the disaster's aftermath.
Features & Analysis
Fancy that
Why good-looking runners attract more donations
26 April 2015

From the section

Health
Our Expert
Westminster: Where houses earn more than people
With London and the South East behind 97% of recent property gains, public attitudes to house building across the nation are shifting. But when will politicians make it a priority?
17 March 2015
Mark Easton
Home editor