TVShack owner Richard O'Dwyer in video content project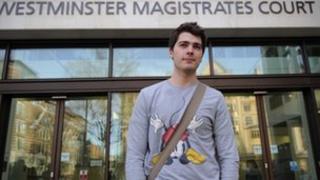 A UK student who has spent two years fighting extradition to the US over a copyright dispute has a new project.
Former TVShack owner Richard O'Dwyer is launching Filmhub, a site aiming to put TV and movie enthusiasts in touch with video content.
It represents a new chapter for the man from Sheffield who hit the headlines in 2011, accused of infringing copyright.
The content for Filmhub will come from authorised sources including Netflix, Amazon and Lovefilm.
Speaking to the TorrentFreak website, Mr O'Dwyer described the site, which is still in development, as a "discovery engine".
"It could be described as a hub to manage everything you're watching and wish to watch," he said.
"As of right now offerings are scattered - simply put, it's a mess. Some services are good for viewing, some for information, some for opinions."
Ad revenue
He said that he was getting back into TV and movie content because he was an enthusiast.
The domain name for the TVShack website was seized by the US authorities in June 2010. It claimed that the website was hosting links to pirated films and TV programmes, earning more than $230,000 (£147,000) in advertising revenue.
Mr O'Dwyer has always denied any criminal intent.
In December he travelled to the US to arrange a deal. He agreed to pay £20,000 in compensation to rights holders, in return for the case against him being dropped. At the time his barrister described the deal as the first of its kind.