Twitter and the death of Baroness Thatcher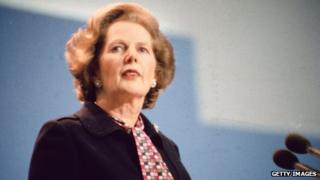 For once, this was not a news story that broke first on Twitter.
For the last few years, the social network has alerted me and many others to all kinds of breaking news, but it was a traditional news source, the Press Association which flashed this line at 12.47 pm:
"Baroness Thatcher died this morning following a stroke, her spokesman Lord Bell said."
The first tweets I can find were at 12:48 BST, within seconds of that PA flash - among them my BBC colleagues Stuart Hughes (@stuartdhughes) and James Pearce (@pearcesport) Strangely, the Press Association's own Twitter feed (@pressassoc) did not pass on the news until 12:50 BST.
But from then on, Twitter was consumed by the news, and was the place many came to offer tributes - or to fight over the Thatcher legacy.
Among the first tribute tweets I spotted was this from a Conservative MP Therese Coffey at 12:55 BST: "RIP Margaret Thatcher. You transformed our country for the better, putting Great back in Great Britain, & helped open the Iron Curtain."
Lord Sugar - who was a Labour minister under Gordon Brown - explained how the Iron Lady had transformed the business world:
Many more followed, from presidents and prime ministers past and present, and all manner of celebrities.
Even five years ago politicians and other well known people might have issued statements or rung broadcasters. Now it seems that they see Twitter as the fastest and most effective medium to share their thoughts with the world.
But as supporters tried to sum up the Thatcher legacy in 140 characters, a number of less enthusiastic voices were making themselves heard.
Labour tweeters urged party members to be respectful - but the Respect MP George Galloway was in no mood for restraint, tweeting "Tramp the dirt down". There was instant, furious reaction, and this and a number of other shouting matches filled the social network with bile for some hours.
But Twitter was also the place to find more illuminating information - from links to obituaries to data about the UK's economic record under the Thatcher premiership.
While much of Twitter's global audience seemed fascinated by the story, some were left confused. After Harry Styles of One Direction paid his own tribute - "RIP Baroness Thatcher .x", some of his fans wanted to know who he was talking about. "i am sorry :( but who was this person?" asked one.
Mind you, his tweet was retweeted by many more than David Cameron's tribute, so he may have played a role in educating a new generation about recent history.
By late afternoon there had been more than a million mentions of the story, and the hashtag #Thatcher was trending in the UK, the US and worldwide. The company says the volume of tweets rivalled those for the announcement of the new Pope.
So how do we sum up the way Twitter has transformed coverage of a story like this? Ronald Reagan - Margaret Thatcher's political soulmate and a similarly divisive figure - died in 2004 before social media took off. Looking back at the BBC's web coverage on that death, it does include comments from readers, although they have obviously been selected by an editor some days after the event.
Now, anyone can instantly broadcast their views on Baroness Thatcher, reaching a global audience which may be moved or outraged.
So Twitter has not only accelerated the speed at which the world digests a major news story, it has democratised reaction to it. Is that a positive development? You decide - in 140 characters or fewer.