Prime minister's technology adviser Rohan Silva quits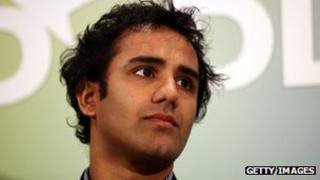 The man responsible for setting up the government's Tech City initiative supporting start-ups in east London is to step down.
Rohan Silva, a senior advisor to David Cameron, will leave his role in June to pursue other business interests.
The BBC understands he is to work with venture capital firm Index Ventures, before moving into the educational technology industry.
Number 10 said it planned to hire a replacement in due course.
A source at Downing Street said: "Rohan is committed to entrepreneurship and has always said he wants to start his own business at some point."
During Mr Silva's time as adviser, he has overseen initiatives focused on expanding London's burgeoning start-up scene.
He previously worked under George Osborne as an economic adviser, as well as a policy analyst for the Treasury.
In a statement, the Tech City Investment Organisation praised the 32-year-old's contribution.
"When you have a passion for entrepreneurship like Rohan and spend as much time working with start-ups as he has in building Tech City, moving from championing those businesses to creating one is a natural next step.
"We will continue to work closely with Rohan until his departure in June and we wish him a world of success."
'Big coup'
Mr Silva had become known as a cheerleader for progressive policies for technology start-ups, including the Entrepreneur Visa.
He was said to be directly involved in the hiring of Joanna Shields, formerly of Facebook, to run Tech City - an appointment described as a "big coup" at the time.
However, Tech City's many critics have said the visa has been ineffective in helping to hire talent from outside the EU, while other initiatives - such as a revamped Old Street Roundabout - have been dismissed as a waste of money.
Last summer, a think tank published a stinging attack on Tech City, saying developers whom it was seeking to help were left "frustrated", and some policies were counterproductive.
Speaking to Tech City News, a news site based in east London, Mr Silva said: "Anyone that knows me knows I've been straining at the leash to have a go at my own business for a number of years now."
He insisted his decision was not a statement on the leadership of David Cameron and George Osborne.
"It's been a hard decision, I've loved that I've been able to make a difference."