Lexmark to quit inkjet printer business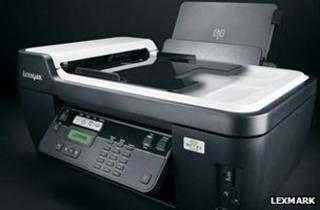 Lexmark has announced it will quit the inkjet printer business as part of efforts to improve its profitability.
The US firm said it would stop development of the technology by 2013 and close its inkjet supplies factory in Cebu, Philippines by 2015.
It added that 1,700 jobs would be lost as a result.
The company said it expected the move to save it $95m (£60m) a year in savings. It also intends to sell some of its 1,000 inkjet-related patents.
The move follows the firm's most recent earnings report in which its net profit fell to $39.2m for the April to June quarter, 61% lower than the previous year.
"Today's announcement represents difficult decisions, which are necessary to drive improved profitability and significant savings," said Lexmark's chairman and chief executive Paul Rooke in a statement.
The firm will continue to sell laser printers and will also focus on its imaging software and document management services.
Squeezed inks
Lexmark has effectively been squeezed out of a declining business.
Sales of inkjet equipment are falling as users increasingly post their pictures to social media sites rather than print them out. What remains of the market is dominated by HP, Canon and Epson which account for 90% of inkjet sales worldwide, according to data from Reuters.
Lexmark had already made moves to shift out of the industry, axing 625 posts in its consumer inks division in January.
At the end of last year it had a total of 13,300 workers.
While the latest move is designed to save costs in the long run, Lexmark has warned that it will have to absorb a $160m restructuring charge involved with the move.
Even so, its shares closed up by 13.73% at $21.62, in New York trade on Tuesday.