BT Vision tops Ofcom's first list of pay TV customer complaints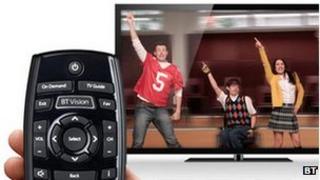 BT's subscription digital TV service attracted more complaints per user in the first three months of 2012 than any other similar UK product, according to Ofcom.
It is the first time the communications regulator has published complaints data about the country's pay TV sector.
It said BT Vision had attracted 27 complaints per 100,000 customers.
Ofcom said common issues had related to billing and sales processes rather than technical problems with the product.
BT's latest data suggests 707,000 people subscribe to its TV service.
Football rights
Ofcom's report showed Virgin Media's TV service attracted seven complaints per 100,000 customers, while Sky TV generated three complaints per 100,000 subscribers.
BT linked its higher figure to growing pains.
"From spring 2012 we began to add more new customers than Sky and Virgin combined - when you have more new customers you see more problems in early life," it said in a statement.
"Where customers have experienced problems, we have identified and fixed the causes.
"Calls to our technical helpdesk have now fallen to their lowest levels since 2006, when we launched BT Vision. We are pleased that Ofcom has also noted that our service is improving."
BT is investing heavily in its TV product, which involves both a Freeview decoder and on-demand content streamed over the internet.
The company had originally aimed to have between two and three million subscribers by December 2010.
It recently agreed to pay £738m for 114 Premier League football matches across three seasons. A report by the Financial Times newspaper suggested it would need to grow its TV subscription base to 2.5 million customers in order to break even.
Ofcom's report also noted the level of complaints about BT's landline telephone and broadband services had been much higher than for BT Vision.
However, TalkTalk's remained the most complained about company for both broadband and landline telephone services.
And Three's customers were the most likely to highlight a grievance in the mobile market, Ofcom said.