Cumbria rejects broadband bids from BT and Fujitsu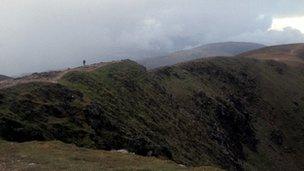 Cumbria county council has rejected the only two bids submitted to roll out fast broadband in the area, the BBC has learned.
The county had been awarded £17m from a public subsidy, one of the largest amounts given to any UK council. BT and Fujitsu both bid for the contract.
It is a setback for the UK government's plans to improve net access in rural areas.
Critics say rollouts are too slow and the bidding process is complicated.
In October last year, George Osborne named Cumbria as one of the pilot areas to demonstrate how best to get fast networks up and running.
The government has provided a fund of £530m to make sure that rural areas get next-generation broadband services that are on a par with those being rolled out in towns and cities.
The money has been divided out among councils, depending on need.
Both BT and Fujitsu have been given more time to come up with better offers.
"We will continue to work with the authority to try and secure what is a highly contested tender," said a BT spokesman.
The government wants 90% of homes and businesses to have access to superfast broadband by 2015.