Gesture and voice: the future of ultra-thin laptops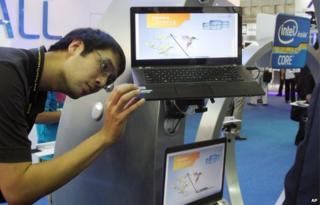 A laptop with two screens - one on the inside and another on the outside of the lid - certainly came as a surprise to many buyers passing through the booth of Taiwanese PC manufacturer Asus at Asia's biggest computer show Computex this week.
"It will be really convenient, especially when I travel, because I can use the notebook side for typing emails and the tablet side for watching movies," said one of them.
And the dual screen could also be handy if "you want to show a friend something on your screen and she's sitting across from you - you don't have to turn your laptop around, the other screen can show the same thing or other content," added Danny Huang, an Asus product manager.
Weighing only 1.2kg, the 17mm-thick device is one of a wide array of thin and lightweight laptops unveiled at Computex, offering touchscreen functions and other features aimed at taking back some market share from popular tablets.
Those that have a chip from Intel inside have become known as "ultrabooks"; another US chip maker AMD has referred to them as "ultrathins".
They all run Microsoft's upcoming Windows 8 operating system, and many are expected to hit the market later this year.
Some have very unusual features indeed - screens that can be detached or reverse-folded to switch from the clam-shell laptop mode to a tablet, and displays that can slide closer to the user.
Others come with an activation code that protects the laptop from being used if it is stolen. If you lose such a device, you'll simply need to hook up to your internet service provider's website and change the laptop's status to "locked".
This will send a so-called "poison pill" to the computer, shutting down the hardware.
Gesture and voice
But while there's a lot of excitement about what these latest notebooks have to offer today, many seem convinced that in a few years, laptops will offer even fancier features - such as the ability to recognise hand or voice commands.
Gesture control via an external sensor similar to a webcam already exists for computers and TV screens, and Apple's latest iPhone 4S has created a buzz with its voice assistant, Siri.
But Intel and a number of PC manufacturers are now interested in integrating such technology into laptops of the future, said Lifang Tseng, product marketing manager at Intel's Taiwan office.
"That will be fantastic for our users - ultrabooks and laptops will [become] a lot more convenient for them," he said.
"For instance, if you're driving and you want to turn on your computer, you can just say: 'Hi, Lifang login'.
"Once it recognises your voice, it will turn itself on.
"And if you say: 'I want to make an appointment with Cindy at 10am tomorrow morning', it can make a note on your calendar and even send an invitation to that person."
And gesture control could be used, for instance, to browse recipes without touching the screen or keyboard while cooking, with hands white from flour.
Industry officials say it's hard to be precise about when these features will become available for notebooks, but some estimate it will happen in two to three years.
"We think it'll benefit all end users," said Mr Huang.
"We're preparing to study all new Intel technology like [gesture] and facial recognition to design new notebooks."
Gesture recognition and voice control are already applied elsewhere - for example, Microsoft's Kinect motion and voice sensor is very popular among video gamers.
To analyse a player's movements, Kinect uses structured lights projecting from a camera onto a grid.
Now the technology has to be refined so that a camera can distinguish between fingers and the face when users are much closer to the screen, as they would be when using a notebook, not a TV, Lifang Tseng said.
A bat's way
A Brussels-based company SoftKinetic, also present at Computex, has come up with its own external gesture control solution - a 3D gesture recognition camera that works as an accessory for laptops and desktop PCs.
To provide data about a user's movements, a 3D camera projects infrared light and calculates the time it takes to emit it, hit an object and bounce back.
"Think of how a bat finds its way," said the company's vice president of marketing Virgile Delporte, explaining the technology.
The latest version can track a user's individual fingers at 60 frames per second from as close as 10cm away, opening up the possibility of many new uses for the device - such as flipping through photos on a computer screen or browsing the web.
"Gesture recognition will revolutionise the way you interact with your PC, and more specifically with a new generation of ultra-thin laptops.
"Natural interaction will go beyond what you can do with your keyboard and mouse, especially when combined with voice recognition.
"This technology will enable new generations of video games, edutainment applications, video conferencing, media browsing and a lot more."
The firm has already been approached by some notebook makers, who want the device to be built into laptops directly.
For now, SoftKinetic's 1in-thick sensors are too big to fit into notebooks that are getting increasingly thinner and smaller - but the company is certain that this will happen soon.
"We know it's technically feasible. It's won't happen immediately, but maybe by 2013 or 2015," said Mr Delporte.
"And it's really more than just replacing the mouse - the uses can go way beyond what we can imagine."