South Scotland
Top Stories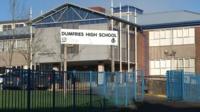 A head teacher who lost his job after he was caught with cocaine is struck off the professional register.
More top stories
An elderly woman confronted an intruder after he broke into her home and stole more than £1,500 worth of jewellery.
A 42-year-old Kelso man is arrested following a major search operation in the Langholm area.
A ward is closed at Dumfries and Galloway Royal Infirmary after 11 patients fell ill with norovirus.
An outfit made of a fabric produced from bananas and waste plastic is to feature at Heriot-Watt University's graduate fashion show.
An inquiry hears evidence from a driver who witnessed a crash which claimed the life of a man from south Wales working on the Borders Railway.
Four people walk free after charges of running a cannabis farm in the Scottish Borders are deserted.
Historic Scotland says three items of pottery stolen from Melrose Abbey were of little financial value but were of "significant historic importance".
Musician Jesse Rae is told he will not be allowed into polling stations or the election count in the Scottish Borders if he carries his claymore.
Police launch an investigation into the assault of a footballer at an amateur match in Lochmaben.
A postal worker who stole packages worth thousands of pounds to pay for his gambling addiction is jailed.
The full programme of events is unveiled for a two-week biking festival around Peebles and the Tweed Valley.
Police launch an investigation after onboard computer equipment worth thousands of pounds is stolen from two JCB diggers in Galloway.
Latest stories
James Fowler believes his Queen of the South players have nothing to fear in their Premiership play-off against Rangers.
Queen of the South's James Fowler is named the Scottish Championship manager of the month for April.