South Scotland
Top Stories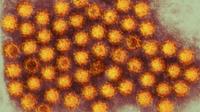 The department of medicine for the elderly at Borders General Hospital is shut due to a norovirus outbreak.
More top stories
An appeal is being made to find new board members for Scotland's "largest rural performing arts festival".
A public inquiry is set to get under way into plans for a 24-turbine wind farm in south west Scotland.
The Borders Book Festival unveils its "biggest ever" programme with more than 90 public events over four days.
The return of rail services to the Borders comes a step closer with the publication of the timetable between Tweedbank and Edinburgh.
A bronze sculpture valued between £100,000 and £150,000 is discovered during a "routine house valuation" in the Borders.
Former Melrose player Sam Chalmers returns from a two-year ban for using anabolic steroids.
A series of consultation events on plans to tackle flooding across Dumfries and Galloway gets under way.
Traders in Hawick are urged to "stand up and be counted" at a meeting looking at the way ahead for the retail heart of the town.
Latest stories
Queen of the South manager James Fowler hopes to hold on to local lads Gavin Reilly, Kevin Holt and Danny Carmichael.
Alloa pick up a precious point as they battle to avoid the relegation play-off, while Queens edge close to a promotion play-off spot.