South Scotland
Top Stories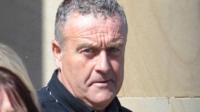 A man who was found guilty of causing a "kamikaze-like" crash which killed his friend and badly injured five others is jailed for six years.
More top stories
The author of a book about the Borders to Edinburgh railway says tourist and leisure passengers could be "a crucial factor" in its success.
One of William Shakespeare's best-loved plays, A Midsummer Night's Dream, is to be performed in the Scots language in a new theatre production.
A new stone plaque could be erected at a famous Borders battle site, under plans submitted to the local council.
A move to four-and-a-half day weeks at schools in the Scottish Borders is leaving some rural children disadvantaged, it is claimed.
A group of animal-lovers mount a rescue for four orphaned ducklings in a pond in a Moffat park - on pedalos.
People living in the Scottish Borders see the fastest rise in disposable incomes of anywhere in the UK, according to new figures from the ONS.
A major project is unveiled to modernise the overhead power line network stretching from Ayrshire across Dumfries and Galloway and into Cumbria.
A Stranraer Academy student sets up a petition to ensure a life-enhancing drug is made available to a fellow pupil with an extremely rare disease.
Scottish Borders Council is to "tweak" its submission to the boundary commission to include the famous battle site at Hornshole in a Hawick ward.
Latest stories
Dumbarton confirm the appointment of Stephen Aitken as manager as the 38-year-old leaves Stranraer.
Ross County complete transfer of Queen of the South midfielder Ian McShane, who signs on a three-year contract.