Scotland
Top Stories
Scots caught up in Nepal earthquake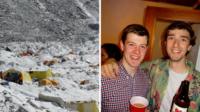 At least three Scots are known to be caught up in the aftermath of the earthquake that hit the Everest region on Saturday.
Miliband: I can win in Scotland
Ed Miliband says he can win the general election in Scotland despite the threat of the SNP and rules out "deals" with Nicola Sturgeon's party.
Features & Analysis
Ask Nicola Sturgeon
Be in the audience for our Ask Nicola Sturgeon programme - a chance to put your question to the SNP leader.
Pedal power
Is Scotland on road to becoming cycle-friendly country?
Poll position
John Curtice on why Scottish polls suggest a potential 'revolution' at Westminster
Who to trust at Alliance Trust?
This year's battle over the Dundee asset manager looks like a classic confrontation between the investment long term and short term hedge fund profit.
25 April 2015
Douglas Fraser
Business/economy editor, Scotland
English votes for English laws 'fully revived'
A previous Conservative leader once told me a story. The narrative concerned the stump speech which said leader was deploying at the time. This was, I emphasise, a wee while back.
24 April 2015
Brian Taylor
Political editor, Scotland
Live
Dundee Utd 0-3 Celtic
Scottish Premiership leaders Celtic visit a Dundee United side seeking to maintain their European hopes.