Scotland
Top Stories
Student's body released to family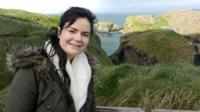 The body of Irish student Karen Buckley, who was murdered in Glasgow earlier this month, is released to her family.
Features & Analysis
Pedal power
Is Scotland on road to becoming cycle-friendly country?
Poll position
John Curtice on why Scottish polls suggest a potential 'revolution' at Westminster
Health matters
Douglas Fraser explains how the Scottish NHS fits into the election debate
English votes for English laws 'fully revived'
A previous Conservative leader once told me a story. The narrative concerned the stump speech which said leader was deploying at the time. This was, I emphasise, a wee while back.
24 April 2015
Brian Taylor
Political editor, Scotland
Go compare: Scotland's place in the world
How well do Scotland and the UK perform by world standards? And if not measured by Gross Domestic Product, what about Gross National Happiness as a guide for governments?
24 April 2015
Douglas Fraser
Business/economy editor, Scotland