'Lame duck versus laggards' in battle for EU climate future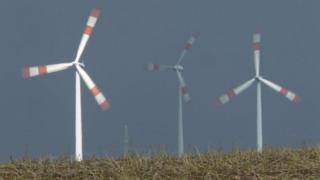 The actions of a lame duck, said one critic. "Burnt out", said another.
The EU commissioners, who leave office in November, were never going to please everyone with their new goals on climate and energy policy unveiled in Brussels this week.
Long seen as the global leader in prioritising and tackling climate change, the 2030 proposals are certainly a step change from the previous plan developed in 2007.
There was always something a bit superior and smug about that 20-20-20 by 20 idea, meaning that emissions had to be cut, renewables utilised and energy efficiency improved by 20% by 2020.
It was just a bit too clever for its own good.
The plan failed to bring the world to a global climate agreement in the EU's own backyard at Copenhagen in 2009 as the chill wind of economic recession gathered pace.
In fairness, the 20s project has had some significant success as well. Overall carbon emission reductions from the EU block are just above the 20% target with six years to go.
Renewables have also made significant inroads.
On a warm, breezy Sunday last June, wind and solar power supplied 60% of Germany's electricity needs.
But right next door to green, clean Germany you have fellow EU member Poland with around 90% of their power coming from coal.
Across the Union, governments were asking, how could the same rigid rules on renewables apply to both?
And then there was shale gas.
"When gas prices in the European Union are three or four times as high as in the United States, then this is a competitive disadvantage we can't accept," Energy Commissioner Guenther Oettinger said at the launch of the new plan.
Confronted by economic woe and political opposition, and with elections due in May, the EU executive opted for a fudge.
"Ambitious but realistic," said Commission President Jose Manuel Barroso of the new plan.
"Weak, threadbare, useless," said green critics.
Under the new plan, there will no longer be binding renewables targets for individual countries.
There will be a big effort made to revitalise the EU emissions trading scheme. Much to the delight of the UK, there will be minimal rules on shale gas fracking.
But at the very least, the EU stuck with a solid 40% target for emissions reduction by 2030.
"A positive signal for a meaningful 2015 agreement," tweeted UN climate chief Christiana Figueres.
When you consider the global situation, that figure of 40% doesn't look too bad.
Last year, Japan rolled back on its carbon cutting commitments, as did Australia and Canada.
In the US, President Obama won't be able to get carbon cuts through Congress, he will have to rely solely on regulations to achieve reductions.
Meanwhile, India and China in 2012 produced a third of the world's emissions, and both countries agree that any curbs on their carbon must be in the distant future.
So in some respects, the EU's firm 2030 commitment is the only game in town.
But there are concerns among some commentators that even the hard won 40% figure might ultimately get watered down.
The new proposals have to be reviewed by the heads of government later this year and legislation may be delayed until sometime in 2015.
Some believe that if there is enough of a delay, Europe may not have completely signed off the 40% target by the time the Paris UN meeting happens in November next year.
There is a view that if Paris ends in a messy compromise, the 40% target might actually be diluted in the wake.
Much to the delight of countries like Poland.
"The laggards are now highlighting the importance of Paris because they know it will be weak too, and what they want is to create a mood after Paris to change course," said Dr Oliver Geden from the German Institute for International and Security Affairs.
The long war, it seems, is only beginning.