European invader threat to US amphibians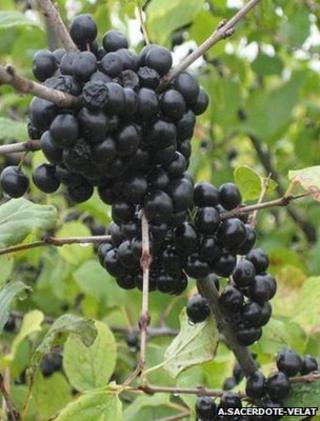 An invasive shrub is disrupting US Mid-West ecosystems and threatening amphibian populations, say researchers.
Buckthorn, listed as an invasive species in the US, is understood to release a chemical into the environment that reduces successful hatching.
Since its introduction in the 19th Century as a hedgerow shrub, the plant has spread widely and is now found across two-thirds of the country.
The results will appear in Natural Areas and the Journal of Herpetology.
"What we are finding is a suppressed hatching success, so there is very low recruitment into the populations (of amphibians)," explained co-author Allison Sacerdote-Velat, a biologist from Lincoln Park Zoo in Chicago.
"There are sites that, historically, had a greater diversity of amphibians and temporary breeding pools but now only have two or three species breeding.
"You would have had six or seven species breeding there about 20 years ago. We are finding that the sites are becoming a monoculture and certain species are becoming harder and harder to spot.
Dr Sacerdote-Velat explained that her study into the impact of European buckthorn on amphibian diversity and populations formed the basis of her PhD dissertation.
"When I started doing a background review, I found very little information on amphibians and buckthorn," she told BBC News.
"But what I did find was some medical and veterinary literature that there were abortive effects of buckthorn oil when it was ingested by small mammals.
"I began wondering whether the oils secreted by the plants were actively releasing this into breeding ponds, and whether this is was affecting amphibians as well."
She added that the shrub tended to form thick vegetative cover around breeding ponds, raising the possibility of a chemical - emodin - being released into the pond water.
Where the shrub had been removed, there was evidence of an increase in amphibian diversity and populations, but Dr Sacerdote-Velat explained that it was not clear whether this was a result of the removal of the invasive plant or the wider benefits of hydrological restoration programmes.
She explained: "The removal of the buckthorn would certainly make it easier for the amphibians, which protect themselves under leaf litter, to disperse.
"Currently, where buckthorn becomes established then it shades out all of the native ground cover, and because it has a very accelerated decomposition rate, there is just bare soil underneath the shrubs, making it very difficult for amphibians to move."