Nuclear energy: King urges billions in investment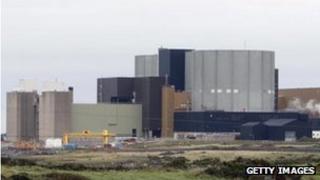 The UK will remain dependent on foreign fossil fuels unless billions of pounds are invested in nuclear energy, an ex-chief government scientist has warned.
Prof Sir David King urged ministers to end free market "dogma" and finance nuclear power stations and renewables.
He said the private sector could not be relied on to deliver the huge sums needed to keep the lights on.
Britain is committed to nuclear energy but two of the "big six" energy firms have shelved schemes to build reactors.
RWE Npower and E.On had planned to invest in new plants in Anglesey and Oldbury-on-Severn, near Bristol, under a joint venture called Horizon Nuclear Power - but withdrew from the project in March.
'Quantitative easing'
"I think the Treasury feels this is up to the market to deliver, but actually this isn't going to happen," Prof King said.
"Infrastructure on this scale is going to need public-private partnership with strong Treasury intervention to signal where the investment should take place.
"I think there are situations where dogma takes over from reason. That's what I believe may well be happening here."
Prof King, now director of the Smith School of Enterprise and the Environment at Oxford, argued that a government-led investment in low-carbon energy infrastructure would stimulate the economy, create jobs and end the reliance on imported fossil fuels.
He said "directed quantitative easing" could help stimulate investment in green technologies.
The Treasury could not afford to just leave decarbonising the economy up to the Department of Energy and Climate Change, he added.
Prof King also welcomed the creation of a green investment bank to invest in low carbon projects.
Britain has legally binding commitments to cut greenhouse gas emissions and sees the development of nuclear energy and renewables as key to addressing climate change.
The government has also pledged to develop technology that captures and stores carbon from fossil fuel power stations.