Horrible noise results in for Radio 4 amateur scientist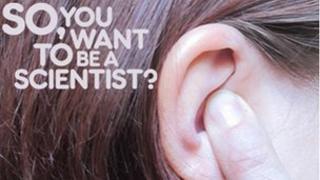 Women find horrible noises such as nails down a blackboard more annoying than men do, a Radio 4 study has found.
Amateur scientist Izzy Thomlinson tested over 14,000 people to see how they rated scraping noises.
Children found the sounds more horrible than older people, but young adults between 19 and 29 were least bothered.
Ms Thomlinson is one of four finalists in So You Want to Be a Scientist? , Radio 4's search for the best amateur research project of the year.
Her idea started when her mum scratched a fork along her dinner plate, and started to cringe.
"I noticed that my Mum finds some sounds really horrible," she explained, "whereas some people don't find them horrible at all. So I wanted to know why there's such a difference in responses."
So she entered her idea for the Radio 4 search and was chosen from over 1,000 entries. Together with three other finalists, she has turned her question into a scientific experiment with help from a professional mentor.
Inexplicable aversions
Since January, Ms Thomlinson has been working with acoustic engineer Prof Trevor Cox to design an online experiment testing how different people react to scraping noises.
Prof Cox explained: "It's an interesting topic because although it is a well-known aversive reaction, very little is known about the causes."
They selected seven scraping noises, suggested by visitors to their Facebook research page . These included squeaky polystyrene, circular saws, microphone feedback and scraping balloons.
"I'm interested in the noises where you can't think of a logical reason why they are horrible," explained Ms Thomlinson.
"Some things like the sound of someone vomiting is obviously disgusting, but I'm more interested in the noises that are painful to listen to but we don't know why."
The team investigated the influence of age, gender and personality type on people's reaction to these noises, asking people to rate them on a scale of horribleness.
Sensitivity to "nails down a blackboard" and "squeaky polystyrene" decreased with age, with children more annoyed than older people. Women rated all noises as significantly more annoying than men.
As might be expected, people with neurotic personalities found these noises the most horrible. Surprisingly however, participants with an open or agreeable personality were also more affected by the sounds.
Ms Thomlinson is currently taking her A-level exams, and hoping to go to University in September to study chemistry.
"I've been enjoying the opportunity to do some real science. Everything you do at school has already been done before by someone else," she said.
"But the good thing about this is that we can find out something that nobody ever knew before."
Along with finalists William Rudling, Dara Djavan Khoshdel and Val Watham, Ms Thomlinson will be presenting her results at the Cheltenham Science Festival .
Mr Rudling will shed some light on whether people who look similar also have similar voices, while Mr Khoshdel studied whether people's emotional responses to an artwork are a good predictor of its monetary value.
Ms Watham overturned previous scientific research with her finding that vertical stripes are more flattering than horizontal stripes.
During the final event, on Saturday 16 June at 13:00 BST , the judges will select who will become the next BBC Amateur Scientist of the Year.
You can hear more about the experiment on Thursday afternoon's Material World at 16:30 BST.