Confusion reigns in green revolution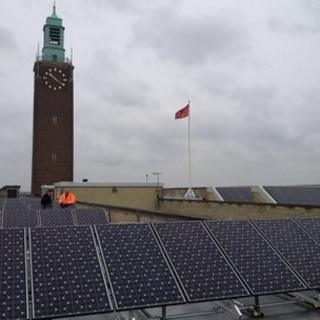 Energy ministers from 23 of the world's most industrialised economies have gathered in the gilded splendour of Lancaster House this week to discuss green power.
But what of the reality on the ground? Visiting a few of the foot soldiers of what the Prime Minister on Thursday called the green energy revolution provides a snapshot of confusion and uncertainty.
Take the Gilvey brothers. Sean and Gary run a business called Pro Solar Power in Norwich.
Some years ago they heard the last government's warm words about the green agenda and sensed a booming market in solar panels.
They hired 12 fitters, investing about £200,000 in the training and safety courses required to send them up onto roofs and to connect the panels to the mains.
First, under Labour, the policies flip-flopped: public subsidies were available - then they weren't. For a fledgling industry, it was deeply troubling.
Laying off family
But then last November the coalition government announced that the tariffs that are paid for solar power would be almost halved.
Sean and Gary saw orders worth £2 million cancelled virtually overnight and their business suddenly had to shrink to a quarter of its original size to survive. But the process was far more fraught than normal.
In all, 13 staff had to be made redundant: nine of the fitters and four staff in sales and administration.
That was painful enough. But two of the 13 being made redundant were family. One was a cousin. The other was Sean and Gary's own step-father.
"It was difficult, very difficult, no question," admits Sean. Gary shakes his head at the memory.
I ask what their mother thought about what happened: two of her sons laying off her husband of 30 years, a family nightmare Shakespeare would have appreciated. Confusion reigns in green revolution
"She knew it was coming," says Gary.
We are talking at the site of their latest major installation: an array of 144 photo-voltaic panels on the roof of Norwich City Council.
Savings generated
It's a dark day and the mood isn't helped by the output of electricity at that moment either: solar panels do work when it's cloudy but not very well, and the meters show the flow right now is down to just a trickle.
When I point this out, Gary leaps in to correct me: what matters, he says, is the output over the course of a year.
And official figures show the array is designed to achieve an overall saving on electricity for the council of £7,500 a year.
Hearing Gary's defence makes me think that the Gilvey brothers are exactly the sort of entrepreneurs who are meant to be at the forefront of the government's low carbon revolution: passionate and pragmatic.
But the changes in policy have left them in a far from ideal mood: puzzled and a little angry.
"The government looks disconnected from the realities of the industry," according to Sean. "Without warning they devastated it in a few weeks."
"Every single day we try to work out where this is going."
Sean recalls that the climate change minister Greg Barker once said that he wanted to avoid a 'boom and bust' cycle in the young renewables sector.
"But that's exactly what he's creating."
Unsustainable demand
For the record, Mr Barker felt that the demand for solar panel installations was so unexpectedly high that it threatened to break the whole subsidy system.
An initiative to support sustainable energy was itself becoming unsustainably expensive.
What panel-owners earn comes from a levy on everyone's electricity bills and a limit had to be set.
The change has hurt but not killed the industry; plenty of panels are still being installed.
A survey of 190 companies published today found that together they had laid off some 6,200 people since last July - about a quarter of the solar sector's workforce.
Sean and Gary agree that the original tariff for producing solar power of 43p per kilowatt-hour had become too high, given that the panels themselves have been tumbling in price.
But, as with any business people, their objection is to the abruptness of the moving of the goal-posts.
And Gary wonders at the impact on the government itself: "With all the lay-offs, think of all the revenue the government has lost from PAYE."
Wind turbines
Further north, in the East Riding of Yorkshire, I detect the same kind of uncertainty in the wind industry.
Five giant turbines are being installed on a pleasantly rolling landscape of fields and hedges at a site called Sancton Hill, the latest in a wave of projects across the country.
But local opposition was fierce - as it is in more and more areas - and planning permission was a close-run thing.
When we arrive, one of the construction team asks nervously about our angle. "Is your report for or against?"
Neither, I explain. There's a new defensiveness in the wind energy industry.
The visual impact, the subsidies, the intermittency - all have raised questions in the public mind.
However an IPSOS-Mori poll earlier this month found a surprisingly large degree of support: 66% either strongly in favour or tending to favour the use of wind power.
Nevertheless these are tricky times for the wind developers.
A hundred mostly Conservative backbenchers wrote to the Prime Minister in February urging a cut in subsidies for onshore wind.
Reduced support
Ministers are themselves exploring a reduction in support.
And the Chancellor George Osborne, by saying 'we're not going to save the planet by putting our country out of business,' has signalled a shift in emphasis too.
Addressing the Clean Energy Ministerial meeting in London, David Cameron spoke of his pride "that Britain has played a leading role at the forefront of this green energy revolution."
But he also stressed a new challenge: 'we need to make it financially sustainable too."
Those at the forefront will want to know exactly what that means.
For Sean and Gary in Norwich, wondering what the next policy change will bring, one thing matters most: consistency.