MEPs
CON

Jacqueline Foster

CON

Sajjad Karim

LAB

Theresa Griffin

LAB

Afzal Khan

LAB

Julie Ward

UKIP

Louise Bours

UKIP

Paul Nuttall

UKIP

Steven Woolfe
Parties shown in alphabetical order
Results
Party
Votes
%
MEPs

change

+/-
Labour

Votes

594,063

Votes Percentage

33.86 (

+13.46

)

MEPs

3

MEPs +/-

+1

UK Independence Party

Votes

481,932

Votes Percentage

27.47 (

+11.62

)

MEPs

3

MEPs +/-

+2

Conservative

Votes

351,985

Votes Percentage

20.06 (

-5.56

)

MEPs

2

MEPs +/-

-1

Green

Votes

123,075

Votes Percentage

7.01 (

-0.68

)

MEPs

0

MEPs +/-

0

Liberal Democrat

Votes

105,487

Votes Percentage

6.01 (

-8.25

)

MEPs

0

MEPs +/-

-1

British National Party

Votes

32,826

Votes Percentage

1.87 (

-6.13

)

MEPs

0

MEPs +/-

-1

An Independence From Europe

Votes

26,731

Votes Percentage

1.52 (

0.00

)

MEPs

0

MEPs +/-

0

English Democrats

Votes

19,522

Votes Percentage

1.11 (

-1.31

)

MEPs

0

MEPs +/-

0

Pirate Party

Votes

8,597

Votes Percentage

0.49 (

0.00

)

MEPs

0

MEPs +/-

0

NO2EU

Votes

5,402

Votes Percentage

0.31 (

-1.12

)

MEPs

0

MEPs +/-

0

Socialist Equality Party

Votes

5,067

Votes Percentage

0.29 (

0.00

)

MEPs

0

MEPs +/-

0
Latest updates
North West England (European Parliament constituency)
27.09.2016
16.06.2016
15.02.2016
14:49
The BBC has found the North West has the highest public services staff sickness rate in the UK.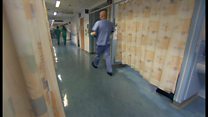 02.07.2015
11:53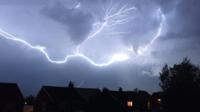 Your photos of lighting and hail storms which swept across northern England in the wake of the UK's hottest July day on record.
21.10.2014
05:05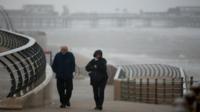 Heathrow cancels about 10% of flights on Tuesday, as strong winds and rain from the remnants of Hurricane Gonzalo hit the UK.
11.10.2014
18:34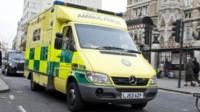 About 130 military drivers are to be drafted in to replace striking ambulance drivers on Monday, the Ministry of Defence confirms.
26.05.2014
07:11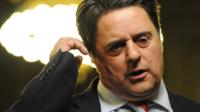 BNP leader Nick Griffin fails to get re-elected as an MEP in the North West as Labour tops the poll in the Euro elections.
00:27
Arif Ansari
Political editor, North West
tweet
tweets: Lib Dem Euro MP Chris Davies did not appear to come to the count and is not here for the result.
00:25
Griffin ousted
Esther Webber
Political reporter, BBC News
standard
Confirmation that Lib Dem Chris Davies has lost his North West seat, as has BNP leader Nick Griffin. At present neither party has a single MEP.
00:22
North West results
standard
The results for North West England are: Labour three MEPs, UKIP three, Conservatives two.
Back to top