Party
Seats

Change

+/-
Conservative

Seats

35

Seats +/-

0

Residents Association

Seats

6

Seats +/-

0

United Kingdom Independence Party

Seats

1

Seats +/-

0
Council background
Type

District Council

Seats up

14 seats up for election - Third

Boundary change

No
Latest updates
Runnymede Borough Council
15.06.2014
17:37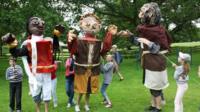 Eight giant puppets take part in a parade in Surrey on the 799th anniversary of the sealing of the Magna Carta.
23.05.2014
09:36
Tories 'deliver through austerity'
standard
Surrey Conservative councillor John Furey, speaking after his re-election in Runnymede borough, said that people want his party to remain in power.
"We actually regained an independent seat in Runnymede. Turnout was very high. I believe that the right results came in."
Mr Furey, who is also a county councillor, adds: "I think the Conservatives have held the line in terms of services over the austerity years we have gone through, and delivered."
09:21
'Low voter turnout'
standard
BBC Surrey's political reporter Jack Fiehn says he has seen "a lack of interest" in local political campaigns, with between 37% and 40% of voters in the county turning out for the polls.
But he adds: "It will be a much more different story next year I think at the general election. I think people will be much more engaged."
08:36
Surrey Tory wins 'pleasing'
tweet
In the Surrey borough of Elmbridge, the count is due to start at 09:30. But Councillor Andrew Kelly, a member of the ruling Conservatives, is already enjoying his party's success elsewhere in the county.
He tweets: "Pleased to see good Conservative wins in Surrey districts of Tandridge and Runnymede. No Lab or UKIP wins. #Elections2014"
02:30
Runnymede results
standard
From Runnymede Borough Council: 14 seats were contested and the borough has 2 new councillors while 12 were re-elected for another four-year term on the Council.
The political composition of the Council is now: Conservative: 35, Liberal Democrat: 0, Labour: 0, Green: 0, UKIP: 1, Runnymede Independent Residents' Group: 6, Independent: 0.
The wards with the highest turnout were Foxhills with 37.68%, Chertsey South and Rowtown with 37.21%, and Thorpe with 36.91%.
01:38
Runnymede Conservative hold
standard
The Conservatives hold Runnymede where 14 seats were up for election.
01:17
The status quo
Andy McFarlane
BBC News
standard
The results are coming in a bit quicker now. Having borrowed the catchphrase "It's never dull in Hull", there proved not to be a political earthquake. Labour, which began the night with a nine-seat majority, has held on to the chamber. Likewise, Runnymede and Tandridge in Surrey have stayed true-blue Conservative.
17.05.2014
09:25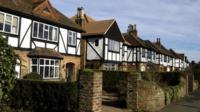 Voters go to the polls in local council and European elections on Thursday at a time when house prices in Surrey are among the highest in the country.