Party
Seats

Change

+/-
Conservative

Seats

19

Seats +/-

+2

Liberal Democrat

Seats

14

Seats +/-

-3

Independent

Seats

7

Seats +/-

0

United Kingdom Independence Party

Seats

1

Seats +/-

+1
Council background
Type

District Council

Seats up

14 seats up for election - Third

Boundary change

No
Latest updates
Mole Valley District Council
25.11.2014
14:59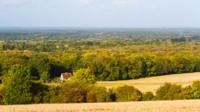 Two Surrey councils rule out building homes on green belt land after the government said priority must be given to brownfield sites.
04.08.2014
22:31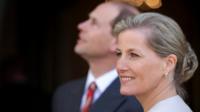 The Earl and Countess of Wessex attend a service of commemoration to mark the 100th anniversary of Britain's entry into World War One.
01.07.2014
15:07
Cyclists say a road race was "sabotaged" by drawing pins being dropped on the course.
29.05.2014
15:12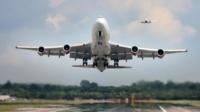 A proposed second runway at Gatwick Airport would destroy ancient woodland, campaigners say.
24.05.2014
01:17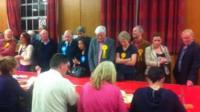 UKIP "fails dismally" in the local election in Tandridge, say the Lib Dems, as most Surrey councils stay under Conservative control.
23.05.2014
17:13
Tories make gains - but not enough
standard
Mole Valley Council in Surrey has stayed with no party in overall control.
The Conservatives remain the largest party and gained seats from the Lib Dems - but not enough to form a majority.
The Lib Dems lost three councillors - two to the Tories, and one to UKIP.
The Conservatives now have 19 councillors, the Lib Dems 14, Independents seven, and one UKIP.
15:37
Mole Valley count finished
tweet
Mole Valley District Council tweets: The count has now been completed for the #molevalley #district elections. Full results will appear here ASAP
13:33
Counting under way in Mole Valley
tweet
Mole Valley District Council tweets: "The count for the #district elections on #molevalley have now begun"
11:16
Counting in Mole
tweet
Mole Valley District Council tweets: Verification of #european and #district election votes began at 9.30am - process well underway in #molevalley
09:21
'Low voter turnout'
standard
BBC Surrey's political reporter Jack Fiehn says he has seen "a lack of interest" in local political campaigns, with between 37% and 40% of voters in the county turning out for the polls.
But he adds: "It will be a much more different story next year I think at the general election. I think people will be much more engaged."
Back to top