Party
Seats

Change

+/-
Conservative

Seats

41

Seats +/-

0

Labour

Seats

5

Seats +/-

+1

Liberal Democrat

Seats

3

Seats +/-

-1
Council background
Type

District Council

Seats up

17 seats up for election - Third

Boundary change

No
Latest updates
West Oxfordshire District Council
04.07.2016
15:41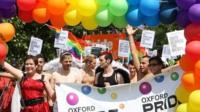 A town which refused to fly the rainbow flag in support of a Pride event is urged to "do the right thing" by reversing the decision.
19.05.2016
09:28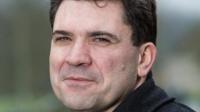 A new leader is appointed to West Oxfordshire District Council to succeed Sir Barry Norton who stood down from the role for health reasons.
16.05.2016
10:44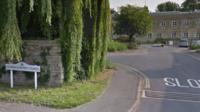 A district council which has proposed breaking away from a county council is criticised by an MP.
06.05.2016
12:00
Election 2016: Turnout figures revealed
A mixed bag when it comes to turnout across Oxfordshire:
Cherwell District Council elections: 34.5%
Oxford City Council: Estimated citywide figure is 39.2%
West Oxfordshire: 37%
Thames Valley PCC: Early estimates suggest 25.6%
10:31
Election 2016: It's not over till it's over
Duncan Enright's been talking about the moment he thought it was all over... it is now. But in an unexpectedly good way for him.
It was my fault really. I think I jumped the gun in announcing my defeat because there was a pile of votes which were all for me with the Conservative one on top.
06:48
'Missing votes' proves story of the night
It's well worth recapping the story of Labour candidate Duncan Enright in West Oxfordshire.
He thought he had been defeated by Conservative Suzanne Bartington in Witney East, tweeting: "thanks for the opportunity to serve".
But incredibly a bundle of 70 votes was discovered and he won enough of them to snatch victory from the jaws of defeat.
He told his followers: "Actually I won! Bundle of votes found under a Tory pile! Delighted!"
03:36
Celebrations in Witney after quick change of fortune
Labour's Duncan Enright celebrates a win in Witney East after previously conceding defeat until a bundle of mislaid votes were found.
03:29
Breaking
Tories remain in majority control in West Oxfordshire
The Conservatives have held their majority of seats in West Oxfordshire, with the number of councillors for each party staying the same.
Here's how things look:
Conservatives: 41
Labour: 4
Liberal Democrats: 4
00:50
Local media descend on West Oxfordshire count
Good to see @BBCOxford, @OxfordGuardian and @WitneyRadio at the Witney count
10:52 PM – 5 May 16
00:28
Video: Timelapse of West Oxfordshire count
This is the scene in West Oxfordshire for the district council election.
Voters have also been to the polls for elections at Oxford City Council and Cherwell District Council as well as for the Thames Valley PCC.  
Back to top