Party
Seats

Change

+/-
Labour

Seats

33

Seats +/-

+4

Liberal Democrat

Seats

8

Seats +/-

-5

Green Party

Seats

6

Seats +/-

+1

Independent

Seats

1

Seats +/-

0
Council background
Type

District Council

Seats up

25 seats up for election - Half

Boundary change

No
Latest updates
Oxford City Council
29.01.2018
08:02
New council leader to be appointed
Susan Brown is due to be formally elected as the new leader of Oxford City Council at a meeting this evening.
She will replace Bob Price, starting immediately, after the long-serving councillor announced his decision to step down last year.
Cllr Brown said: "I'm extremely proud and very delighted to be taking on this really important role... I know I have got a big pair of shoes to fill because Bob has been doing the job fantastically."
26.01.2018
08:39
Oxford City Council selects new leader
The new leader of Oxford City Council has been elected.
Councillor Susan Brown will take over from councillor Bob Price when he stands down at the end of the month, ahead of his retirement in May.
Susan Brown has been a councillor for 17 years and is the current deputy leader of the ruling Labour Group.
She said: "It is an honour and a privilege to be elected as leader of my group and the council.
"It is very exciting to be able to play my part in developing the vision for Oxford's future - the city where I grew up and have spent most of my life.
"Bob is a very hard act to follow as he has been carrying out the role for 12 years now and has brought great experience and wisdom to the role."
20.12.2017
09:38
Campaigners want the "iconic" Oxford landmark to become a protected site.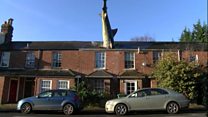 18.12.2017
18:37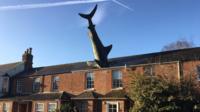 Oxford City Council will be asked to make the sculpture it once tried to remove a "heritage asset".
13.12.2017
09:18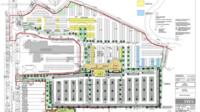 A report by council officers said the "public benefits" would "outweigh the harm".
24.11.2017
16:13
Tributes paid to Oxford councillor
Jennifer Pegg, Oxford City Council's representative for the Northfield Brook ward, has died.
Elected to the authority in October 2015, the 65-year-old served on the west area planning committee, the scrutiny committee and the scrutiny housing panel.
Council leader Bob Price said her colleagues were "deeply shocked" by her "untimely death".
He described her as "loyal, funny, determined, and very hard working on behalf of the community that she represented."
01.07.2017
15:07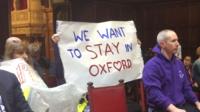 The city council reversed its decision to allow the Oxford club to move to larger premises.
04.03.2017
12:24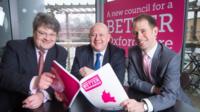 The city council says new proposals for a county-wide authority do not address the needs of Oxford.
12.01.2017
08:28
A council reverses its decision to allow a gymnastics club in Oxford to move to larger premises.
22.11.2016
13:57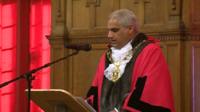 Oxford's Lord Mayor blames an "admin error" for his failure to pay £216.29 in council tax.
Back to top