Party
Seats

Change

+/-
Conservative

Seats

40

Seats +/-

-1

Labour

Seats

7

Seats +/-

+2

Liberal Democrat

Seats

2

Seats +/-

-1

Independent

Seats

1

Seats +/-

0
Council background
Type

District Council

Seats up

17 seats up for election - Third

Boundary change

No
Latest updates
Cherwell District Council
01.08.2017
12:42
Computer glitch causes Cherwell double council tax bill
About 4,400 people in Oxfordshire will be charged double for their council tax this month because of a computer glitch.
New software has been installed by Cherwell District Council and caused payments not to be taken in July.
As a result two payments will be taken on 9 August. The council has written to affected residents affected and set up a dedicated phone line for anyone who wants to make a one-off payment now.
A spokesman said: "Cherwell District Council's revenues and benefits department has recently changed its software system.
"In the course of the switchover to the new system a technical issue meant that direct debit payments for residents who normally pay on the ninth of the month were not claimed."
14.03.2017
14:52
Council criticism for shake-up plans

Sam Read
BBC Radio Northampton politics reporter
South Northamptonshire Council is urging residents to sign a petition against plans to create a new single council to run services across Oxfordshire.
If Oxfordshire County Council's (OCC) plans for a new unitary authority go ahead, all the county's existing councils would be scrapped. 
That's a problem from South Northamptonshire Council (SNC), as it shares many staff and services with one of those threatened authorities - Cherwell District Council. 
The two authorities share not only a chief executive, but many officers.
Ian McCord (pictured), Conservative leader of SNC, said: "It is not possible to pull one council off the see-saw and jettison the other in the air - OCC must come clean and make their plans clear."  
OCC says its plans could save £100m over five years and are supported by 70% of people in Oxfordshire.
06.12.2016
07:58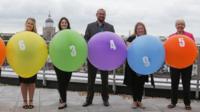 Cherwell District Council is setting up its own online lottery to raise money for charities and community groups
22.11.2016
13:57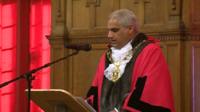 Oxford's Lord Mayor blames an "admin error" for his failure to pay £216.29 in council tax.
26.09.2016
18:54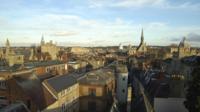 Plans to build thousands of homes to deal with Oxford's housing crisis are rejected by a district council leader.
06.09.2016
16:39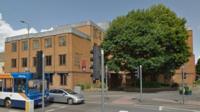 An office block that lay empty for 10 years before being turned into 39 affordable flats for council tenants is ready to be occupied.
25.08.2016
11:37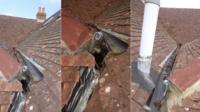 A homeowner claims he has been left up to £80,000 out of pocket after "defective" work was signed off by a council building inspector.
11.08.2016
09:07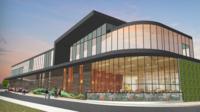 Plans for an out-of-town retail park in Bicester have been dismissed at appeal by a government inspector over traffic and development fears.
06.05.2016
17:21
Cherwell council election results
So in Cherwell, the last area in Oxfordshire to declare results today, the make-up of the council is: 
Conservatives - 38 seats
Labour - 8
Independents - 2
17:10
Breaking
Conservatives hold Cherwell
The Conservatives have held on to Cherwell - they now have 38 seats.
Back to top