Party
Seats

Change

+/-
Labour

Seats

16

Seats +/-

-4

Conservative

Seats

13

Seats +/-

-6

United Kingdom Independence Party

Seats

10

Seats +/-

+10
Council background
Type

District Council

Seats up

13 seats up for election - Third

Boundary change

No
Latest updates
Great Yarmouth Borough Council
Yesterday 16.10.2017
17:12
Former Yarmouth hotel could be turned into care home

Andrew Turner
BBC Radio Norfolk
A disused hotel could be pulled down to allow a £5m rebuild of a care home in Great Yarmouth.
The Arden Court Hotel closed its doors two years ago - and was snapped up by the Kingsley Healthcare group, which owns the Eversley Nursing Home next door.
The Arden Court Hotel closed in 2015, and the owners of the care home had considered linking the two together.
But the company says starting afresh means they can create a modern care home with two lifts and 39 en-suite bedrooms.
Chris May from Kingsley said: "We've got to knock down the hotel, build the first part of the care home ensuring we have all the facilities such as laundry, kitchen and so forth in the first half of the building.
"Technically we'll then decant everybody from the old building into the new building and then pull down the old building."
An application to demolish the hotel, which is on North Denes Road, has been made to Great Yarmouth Borough Council.
12.10.2017
16:00
Great Yarmouth air show plans to be considered by councillors

Paul Moseley
BBC Radio Norfolk
Plans for a big air show in Great Yarmouth are expected to move forward next week.
A four-day event planned for June this year was cancelled, leaving many businesses out of pocket.
It was expected to attract thousands of visitors, and generate £10m for the local economy.
Organisers from the Business Improvement Area board blamed spiralling costs.
Now borough councillors are due to look at plans for a show to take place next year.
They're expected to offer the council's support for an air show, along with ideas including pop-up bars on the beach.
They're due to talk about the plans next Tuesday.
Neighbouring Lowestoft held an annual summer air festival, which began in 1997.
However, it ceased to exist, citing funding problems, after the last one in 2012.
29.09.2017
16:01
Referendum on frequency of council's elections

Andrew Turner
BBC Radio Norfolk
Almost 24,000 people have voted in a referendum in Great Yarmouth to change the way councillors are elected.
About 70% of them voted to reform the system. Instead of councillors standing three years in four, the public think all councillors should face the vote once every four years.
The decision made by the public is not binding and councillors will decide the style of voting at a future date.
If the change is implemented, it could save the authority £120,000 every four years.
19.09.2017
11:38
Council denies plans to cut Great Yarmouth tourism funding
Support for tourism in Great Yarmouth is at an all-time low, according to the chair of the Maritime Festival.
Aileen Mobbs said: "The whole time I've been here we've had a tourism officer and department and that has been well supported and worked in great partnership.
"Now it looks like the partnership is falling apart because the borough council, in order to cut costs, are cutting tourism and as a seaside resort it seems nonsense."
UKIP group leader on Great Yarmouth Borough Council, Kay Grey, says cuts are on the table but not for tourism: "There's been nothing targeted against tourism as an individual area," she said.
"We are looking at making cuts wherever we can but nothing about tourism has been mentioned to me at the moment."
The council says it's committed to help grow visitor numbers and that it's not reduced funding or the number of staff committed to support tourism.
08.09.2017
09:37
Rent increase threatens two-day market, traders claim
Jo Thewlis
BBC Radio Norfolk
Traders on Great Yarmouth's two-day market may not survive because of the number of stalls that are closing, it is claimed.
More than 20 stallholders have decided to leave the market since the beginning of the year, following an increase in rents - roughly a third of the existing stalls.
Great Yarmouth Borough Council says it's given traders a 2.5% cut in their rates to encourage more people to stay.
However, many of them took on more space over past years with no increase in overall fees in a bid to make the market look bigger.
Under a new system of assessment for this year, fees will be charged on the whole size of stalls which means many traders are paying much more than they used to.
31.08.2017
15:13
Feed the bins not the birds
A council is asking the public to feed the bins, not the birds, as part of a campaign to reduce the number of gulls in Great Yarmouth.
Great Yarmouth Borough Council says the increase in the number and distribution of the gulls in recent years is a direct result of people disposing of waste irresponsibly, or feeding the birds.
It's now launched a series of stickers for litter bins and businesses in key locations in the town, including the Market Place.
Councillor Carl Smith, chairman of the environment committee, said the growth of their population was "not natural", and its spread into more suburban areas is due to people not disposing of their waste responsibly.
"While some want a mass cull, this would be highly illegal and studies have found that this would not be an effective solution as the gull population rises or falls to meet the amount of food available," he said.
Environmental health officer Jason Williams says the birds are intelligent, social and nest together with close access to food and litter. With less food about, they'll lay fewer eggs or go elsewhere for richer pickings.
16.08.2017
06:04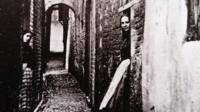 The Rows were a network of 145 narrow streets running east-west across Great Yarmouth.
03.08.2017
08:44
Historic building 'a rare survivor'

Andrew Turner
BBC Radio Norfolk
Great Yarmouth councillors say they've no choice but to find an appropriate use for a landmark building which has fallen into disrepair.
The glass-fronted Winter Gardens closed to the public in 2008, following safety concerns, and it will cost around £10m to get it fit for purpose.
The building is Grade 2* listed, so the council cannot pull it down. It's the last cast iron glasshouse in a coastal area in Britain.
"It's a rare survival," said the council's conservation manager Darren Barker.
"Everything should be done to preserve the building."
Mr Barker also sits on the Great Yarmouth Preservation Trust, and says an end-use for the Winter Gardens should be found that will provide a return for the town.
There's been lots of uses throughout its history and all of them have failed. We have to provide an end-use that's sustainable, creates enough revenue to keep the building maintained and is also going to fit in with the Great Yarmouth seafront."
08:25
Funding for landmark seafront building

Andrew Turner
BBC Radio Norfolk
Great Yarmouth's Winter Gardens is to receive more council money while a long-term use for the building is worked on.
Borough councillors have approved £20,000 for the glass-fronted building, which was closed to the public in 2008 because of safety concerns.
Originally built in Torquay, the cast-iron greenhouse was bought by the council in 1904, and was delivered to the town by barge.
The cost of a full restoration to make it usable is estimated at around £10m.
Council leader Graham Plant says they've no choice but to find the Great Yarmouth landmark a new use, adding that it's a listed building and can't be demolished.
If someone wants to come along and buy it and spend £10m of their own money we're more than happy for them to do that, but as very few people have come forward to do that, as the council owners we have to find a way of bringing this building back into use."
10.04.2017
16:36
'Cannabis waste' found by allotments

Andrew Turner
BBC Radio Norfolk
Waste from a suspected cannabis factory has been found dumped outside allotments in Great Yarmouth.
Borough Council rangers picked up dozens of bin liners containing pots, roots and other growing equipment from Tar Works Road. 
A spokesperson from the council told me their rangers have searched the waste for evidence, and have reported the incident to Norfolk Police - who are seeking any information.
A similar dump of suspected cannabis-growing waste was reported last month. Alex MacDonald is the secretary of the plots, and he says it's a concern.  
I would say there were over 40 or 50 bags. I've no idea where it came from. It's obviously been dumped during the night when no-one's about but the police are on it now so there must be something going on."
Back to top