Party
Seats

Change

+/-
Conservative

Seats

26

Seats +/-

-1

Labour

Seats

3

Seats +/-

0

United Kingdom Independence Party

Seats

1

Seats +/-

+1
Council background
Type

District Council

Seats up

11 seats up for election - Third

Boundary change

No
Latest updates
Broxbourne Borough Council
23.05.2014
23:55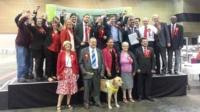 Labour look set to take control of Milton Keynes Council in a minority administration after making gains.
00:30
Broxbourne stays blue
Justin Parkinson
Political reporter, BBC News
standard
A second council has declared its results. The Conservatives hold Broxbourne, Hertfordshire. It was statistically impossible for the Tories to lose it, given that they previously held 27 of the 30 seats and only 11 were contested. Further details soon. Two English councils done, 159 to go.
Back to top