Party
Seats

Change

+/-
Conservative

Seats

24

Seats +/-

-1

Labour

Seats

12

Seats +/-

+1

United Kingdom Independence Party

Seats

3

Seats +/-

0
Council background
Type

District Council

Seats up

13 seats up for election - Third

Boundary change

No
Latest updates
Rushmoor Borough Council
23.05.2014
21:01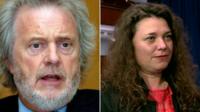 Portsmouth South MP Mike Hancock, who is accused of sexual misconduct towards a female constituent, loses his seat on the city council to UKIP.
09:21
'Low voter turnout'
standard
BBC Surrey's political reporter Jack Fiehn says he has seen "a lack of interest" in local political campaigns, with between 37% and 40% of voters in the county turning out for the polls.
But he adds: "It will be a much more different story next year I think at the general election. I think people will be much more engaged."
12.05.2014
08:42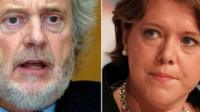 This year's local elections may well end up being overshadowed nationally by the European campaign, but in Hampshire two sideshows are sure to get all the attention.
Back to top