Party
Seats

Change

+/-
Liberal Democrat

Seats

33

Seats +/-

-1

Conservative

Seats

15

Seats +/-

+1

Labour

Seats

3

Seats +/-

0
Council background
Type

District Council

Seats up

17 seats up for election - Third

Boundary change

No
Latest updates
South Lakeland District Council
11.06.2017
15:44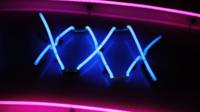 South Lakeland council says it has never had an application to run a sex establishment.
30.05.2017
15:17
Cafes listed in guide for breast-feeding mums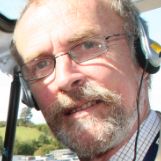 Martin Lewes
Reporter
A new guide's being drawn up listing cafes and other businesses which will welcome breast-feeding mothers.
The Equality Act 2010 makes it illegal to discriminate against mothers who need to feed their baby.
South Lakeland council set up a register after a pilot in Ulverston proved successful, and businesses taking part are able to display a sticker on their windows.
04.04.2017
13:30
More than 1,200 flood in to claim money
South Lakeland District Council says the final count showed 1,247 people applied for £5,000 flood resilience grants when the scheme closed at the end of last week.
Council officials say this means about two thirds of those who were eligible asked for a grant.
The authority has now approved more than £2.4m worth of work such as flood gates, concrete floors or raised kitchen units and electrical circuits.
The money can also be used to pay for additional measures to protect a house against flooding, which wouldn't be covered by household insurance.
22.03.2017
15:05
Views south on South Lakes development sites
23.02.2017
15:14
Public views sought on Market Place facelift
More artists' impressions have been published of what South Lakeland District Council officials would like to do in Kendal Market Place.
The authority says it has £200,000 to spend on creating what officials describe as "a high-quality, versatile space suitable for hosting a wide range of community-focused events and markets".
There will be a display on the first floor of the Westmorland Shopping Centre this Saturday, and on Wednesday 1 March, and in the reception area at South Lakeland House. The closing date for comments is 10 March.
14:55
Councillors agree 2.8% hike in South Lakeland tax
South Lakeland's ruling Liberal Democrat councillors have voted through a 2.8% increase in the authority's share of council tax.
The increase is the equivalent of £5 a year on a Band D property; Councillor Peter Thornton, the cabinet member for finance, said it was "a balanced a sustainable budget".
Conservative opposition councillors moved amendments which they said would mean no increase; council leader Ben Berry said: "Residents don't have to pay a penny more than they do now to receive a better service."
31.01.2017
12:33
Council offers firms cash grants for bike lock-ups
Businesses in South Lakeland are being offered grants of up to £1,000 to provide facilities for staff who cycle to work.
The money is to help firms provide secure facilities such as a rack or bike boxes.
Officials hope more people cycling will reduce congestion on the roads, and help people keep fit.
21.05.2016
14:21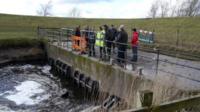 Pumping stations managing water levels in a Cumbrian valley will continue to be operated by the Environment Agency while an alternative arrangement is agreed, landowners are told.
06.05.2016
03:59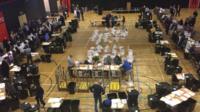 Labour remains in control of Carlisle Council, and the Lib Dems keep charge of South Lakeland.
05.05.2016
07:04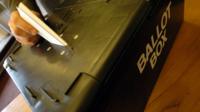 Voting takes place in council and police commissioner elections across Cumbria.
Back to top