Party
Seats

Change

+/-
Conservative

Seats

35

Seats +/-

-2

United Kingdom Independence Party

Seats

7

Seats +/-

+2

Liberal Democrat

Seats

5

Seats +/-

-2

Independent

Seats

4

Seats +/-

+2

Labour

Seats

1

Seats +/-

0
Council background
Type

District Council

Seats up

17 seats up for election - Third

Boundary change

No
Latest updates
Huntingdonshire District Council
13.06.2017
10:46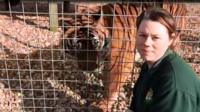 Rosa King died at Hamerton Zoo Park last month when a tiger entered an enclosure.
09.06.2017
17:22
Five days to claim £1m Huntingdonshire lottery ticket
There are just five days left to claim a winning lottery ticket in Huntingdonshire, worth £1m.
The ticket was bought in the district for the draw on 16 December 2016. It expires on Wednesday, 14 June.
12:41
Huntingdonshire UKIP councillor says 'collapse predicted'

Nic Rigby
BBC News
UKIP Huntingdonshire district councillor Peter Reeve has talked about the disintegration of his party's vote.
"We were pointing out our votes would collapse at this election. It was not a normal general election," he said.
"UKIP stood down in some of its best seats in the country and where we did stand down, UKIP voters were the kingmakers."
"It certainly has been a dramatic night. This prime minister did not need to call this election. It started off on Brexit and it was all Brexit at the beginning.
"As soon as the manifesto was published it went way off the Brexit agenda with our kind of voters finding it difficult to support even Brexit MPs when their manifesto was so bad with dementia tax, uncertainties over income tax rises, the end of free school meals."
05.06.2017
13:12
Former UKIP candidate accuses colleague of 'breakdown' over LibDem endorsement
Michael Baker, UKIP's former candidate for the parliamentary seat of North Norfolk, says he'll be looking to get a colleague thrown out of the party for backing the Liberal Democrats' Norman Lamb.
UKIP's local government spokesman Peter Reeves, who is a Huntingdonshire councillor, issued a video urging voters to support Mr Lamb.
UKIP is not fielding a candidate in the seat - instead it had asked the 8,300 people who voted for them in 2015 to "lend" their votes to the Conservatives.
Mr Baker, who stood for the seat two years ago, says his immediate reaction to the video was one of "absolute incredulity".
He said: "I've known Pete Reeve for a long time and looking at the transcript of his endorsement video, I can only assume he's been working extremely hard on UKIP matters, the general election and his county council work and has probably overdone it and maybe is perhaps heading towards a breakdown."
He went on to say that he wondered whether it comes under the heading of fake news - "because we do know what people can do with cameras and video" - adding he hoped it was false news and that Norman Lamb wouldn't get tarnished by latching on to it and taking it as wholehearted encouragement to vote for him.
I doubt whether Peter Reeve's tenure within the party will last too much longer if what we apparently see - and I do use the word fake news - what we apparently see is true, because I will certainly be looking to get him slung out."
12:57
Norman Lamb welcomes UKIP councillor's endorsement
Norman Lamb, who's hoping to be re-elected as MP for North Norfolk, says he's delighted to have the support of UKIP's local government spokesman Peter Reeve.
In a video released this morning, Mr Reeve, who is a councillor representing Ramsey on Huntingdonshire District Council in Cambridgeshire, backed Mr Lamb, saying the Lib Dem candidate was "a man who will stand up for North Norfolk" during Brexit negotiations and on issues like the NHS and social care.
Mr Lamb describes it as an "incredibly welcome endorsement... hugely significant", adding that there'd been an assumption that the vast majority of those who voted UKIP in 2015 would head straight to the Conservatives at this election and Mr Reeve's support was a "challenge to that assumption".
He went on to say that the constituency needed a strong voice to "challenge to government on chronic under-funding of the NHS and their plans for social care".
Mr Lamb said: "I think that Peter recognises my track record on these issues and the dedication I have shown to North Norfolk over the last 16 years.
"Despite our differences on a number of issues, Peter is a principled and respected figure in UKIP and in local government – and I am delighted to have his support."
Two other parties are fighting for the constituency. Labour is fielding Stephen Burke and James Wild is standing for the Conservatives. The Green Party has decided not to field a candidate in order to help Norman Lamb retain his seat.
UKIP had also chosen not to field a candidate, having previously asked people to "lend" their support to the Conservatives in order to unseat Mr Lamb in North Norfolk.
30.05.2017
16:18
A charity says questions need to be asked about safety after the death of a zoo-keeper.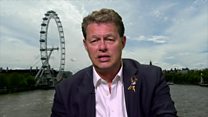 05.05.2017
03:05
Former UKIP leadership candidate: Challenging night for party
A senior UKIP politician has admitted that it will be a tough night for the party. 
Lisa Duffy stood, unsuccessfully, for the UKIP leadership and is a councillor on Huntingdonshire district council. She's convinced the party will bounce back.  
We know tonight's going to be extremely challenging for us as a political party. We're going through a new phase. We got Brexit - or we certainly won the referendum, we're well on our way to Brexit now. With the general election being called so quickly, it's going to be a difficult night but it's one that we will grow from."
18.04.2017
16:01
Chicken farm proposal met with anger
Adam Jinkerson
BBC Local Live
Plans for a five-acre chicken farm on the outskirts of Peterborough have met with strong opposition by locals.
The farm would house more than 100,000 chickens, which would be brought in from the Midlands and London, and a Halal slaughterhouse on land near to King's Delph Drove in Farcet.
Many people living nearby aren't happy and say the smell would be intolerable, as well as an increase in traffic.
A farm owner, who neigbours the land proposed for the site, says the planting of trees around the site is "not enough to stop the smell."
"With a westerly wind, it will cover in excess of 1,500 homes at the top of the village," he said.
"Trees won't stop that."
Similar planning applications have been refused before.  
Comments on the plans need to be submitted to Huntingdonshire District Council by next Thursday. 
24.06.2016
14:07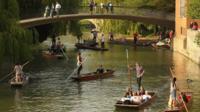 Cambridge votes overwhelmingly in favour of remaining in the European Union, bucking the national trend.
06.05.2016
17:38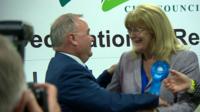 Conservatives take control of Peterborough City Council which had been without any one party in overall control.
Back to top