Party
Seats

Change

+/-
Labour

Seats

28

Seats +/-

0

Conservative

Seats

18

Seats +/-

+2

Independent

Seats

2

Seats +/-

+1

Liberal Democrat

Seats

0

Seats +/-

-3
Council background
Type

Unitary Authority

Seats up

17 seats up for election - Third

Boundary change

No
Latest updates
Southampton City Council
20.12.2017
15:20
Tent camp set up in homelessness protest
Our reporter Hannah Bewley has been speaking to a group that has set up camp in Southampton...
Cliff said he was demonstrating because he needs a "safe place to go after being urinated on in doorways".
Councillor Dave Shields said there was rarely a night when there wasn't enough hostel beds in the city and claimed some of the people in the encampment "have homes to go to".
15.11.2017
11:08
Hampshire care homes rated 'inadequate' by inspectors
Two residential care homes in Hampshire have been placed into "special measures" following Care Quality Commission (CQC) inspections.
The unannounced inspections at Southampton City Council-run Shearwater in Milton, Portsmouth, and Gosport's Northcott House Residential Care and Nursing Home, which is managed by Contemplation Homes Limited, took place in September.
"Serious concerns" were found at Northcott House regarding the safety of the service.
The report said there was a "lack of leadership" among staff and residents were "at risk of harm because appropriate measures had not been implemented to identify and assess risks".
According to the report for Shearwater there was a lack of clear guidance for the safe use and administration of some medicines and patient records were not always accurate or complete. Inspectors also found there were not enough regular staff.
However, it was found to be a caring service.
09:57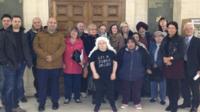 Families had urged the council to maintain the service, which offers respite to carers.
28.09.2017
08:39
'Roads so polluted they'll leave you breathless'
A billboard raising awareness about air pollution has gone up in Southampton.
It has been paid for by the Healthy Air Campaign, which is campaigning for stronger action to tackle the problem.
The board is one of five to go up in the country with others in Manchester, Liverpool, Leeds and Birmingham.
13.09.2017
16:49
Councillor leaves cabinet to study PhD
Southampton city councillor Paul Lewzey has announced he is stepping down from his children's social care cabinet role as he begins a PhD.
He will be replaced by Bitterne councillor John Jordan but will remain ward councillor for Peartree.
04.07.2017
13:28
Southampton tower block residents are shown the new sprinkler system being installed in the city following the Grenfell Tower fire.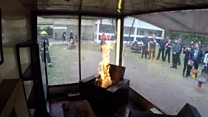 13:08
Southampton tower block residents are shown the new sprinkler system being installed in the city following the Grenfell Tower fire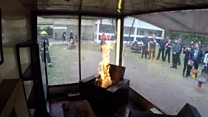 22.04.2017
Back to top