Arnon Milchan: Hollywood producer's starring role as 'spy'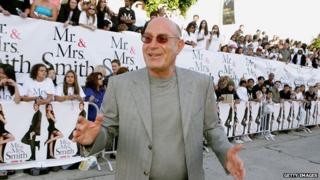 Known in Israel as the Chuck Norris of the intelligence services, Hollywood producer Arnon Milchan has revealed his starring role - as a spy.
On Monday, Milchan broke a taboo by speaking on television about his work as an undercover agent.
"I did it for my country and I'm proud of it," Milchan said on an Israeli investigative programme called Uvda.
Before his appearance on the programme, he was best known for his work in the film business - and for a string of successes that include Pretty Woman, Fight Club and LA Confidential.
Over the years he has produced more than 120 movies, working with directors such as Martin Scorsese, Roman Polanski and Oliver Stone.
As it turns out, he was moonlighting. "If people knew how many times I risked my life, back and forth, again and again, for my country," he said on the programme.
Milchan - who is said to have a net worth of more than $4bn (£2.5bn) - confirmed that Shimon Peres, now Israel's President, recruited him in the 1960s.
Formerly the head of a fertiliser company, Milchan was asked to help the Bureau of Scientific Relations, an organisation created to supply Israel's nuclear programme.
Israeli intelligence has not commented publicly on his interview.
But film industry figures were not exactly shocked by Milchan's disclosures, describing his work as "the worst-kept secret" in Hollywood.
Still the television appearance was an unusual twist - for a spy, as well as for a producer.
Filmmaker Robert Greenwald has known Milchan for years. He is "incredibly charming", says Greenwald. "He has that thing that some successful people have - he's able to read people quickly."
Greenwald, who is head of Brave New Films, understands that people go through phases and have secrets.
Still, he says that he was surprised by the revelations about Milchan: "It was not an everyday Hollywood, run-of-the-mill event."
Don Murphy, the producer of Natural Born Killers (as well as Transformers - and the upcoming Vampire Academy), has also known Milchan for years. Yet Murphy did not sound shocked. As he says, spies and producers have much in common.
He says: "A producer just has to do whatever's necessary to get [expletive] done. And if you're James Bond, you also have to focus on getting [expletive] done."
Tricia Jenkins, author of a book called The CIA in Hollywood, also says that producers and spies have similar traits.
"They're both in the same game," she says. "They create convincing stories out of nothing. They're very good liars, and they're really good storytellers."
In Ben Affleck's film, Argo, a CIA officer and others pretend to be part of a movie crew - and manage to get out of Tehran during the 1979 hostage crisis.
In a similar way Milchan used his Hollywood work as a cover. Then it became "a full-blown second career", according to the New York Times.
It is one thing to use a company or industry as a cover. Spies and producers both see advantages in that. But talking about spy work is different - and is viewed with suspicion, whether in Hollywood, Tel Aviv or Langley.
In his 1984 book, Confessions of a Dangerous Mind, game-show creator Chuck Barris (The Dating Game, The Gong Show) claimed to be a CIA hit man. He is routinely asked to verify, or deny, this claim - though he never has.
This week people in Israel have been sceptical about Milchan's claims. Amir Oren, a Haaretz correspondent, warns the BBC about "the overstated description of his undercover role". (Milchan was travelling and could not be reached for comment, says his assistant Jane Bulmer.)
In the film Wag the Dog, a Hollywood producer (Dustin Hoffman) gets involved in a covert operation. He helps to stage a war. Afterwards he wants desperately to tell people. Spoiler alert: for him, things end badly.
Milchan said on television that he felt compelled to tell his secrets. He said he had felt maligned in Hollywood where people believed - mistakenly, he said, that he sold weapons on the global market.
"Instead of someone talking to me about a script, I had to spend half an hour explaining that I'm not an arms dealer," he said.
Predictably a script has been written about his quandary. A Los Angeles writer, Eric Hamburg, who once worked with Stone, wrote a screenplay, The Uzi Factor, about Milchan in the mid-1990s.
Hamburg, who has met Milchan, has been "tweaking" the screenplay over the years. (It has not yet been sold.)
In the screenplay a fictionalised character, loosely based on Milchan, is an arms dealer - and in this way reflected the conventional wisdom in Hollywood.
In the screenplay movies offered him a chance for redemption. "It's about more than making money. It's even about more than laundering money," says the fictional character. "It's about laundering my image."
On television Milchan also came clean. He made it clear he is not an arms dealer, but a spy. Now people can decide how they feel about that.