Been and Gone: Smokey and the Bandit director and the world's tallest dog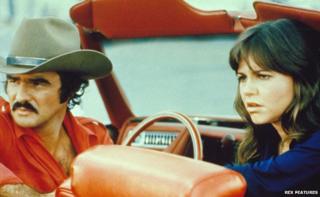 Our regular column covering the deaths of significant - but lesser-reported - people in the past month.
During his career as a stuntman, Hal Needham broke his back twice, punctured a lung, damaged his hearing and lost a number of teeth. A former paratrooper, he appeared in many films including Chinatown, How the West Was Won, Blazing Saddles and Little Big Man as well as countless TV westerns. He often worked as a stunt double for the actor Burt Reynolds and the two became close friends. When Needham wrote a screenplay about a trucker's attempt to smuggle beer into Georgia entitled Smokey and the Bandit, Reynolds agreed to star in the film and persuaded Needham to direct. The duo worked together on subsequent films, Hooper, The Cannonball Run, and Stroker Ace. Needham put much of his money into a 1979 attempt to break the sound barrier in a car dubbed Budweiser Rocket. However, claims the car had been successful were dismissed, as no independent verification had taken place.
The doner kebab has long been the food of choice for many a late-night reveller and Kadir Nurman was a pioneer in popularising the dish. The idea of grilling huge lumps of meat on a rotating skewer was not new but Nurman had the idea of selling the sliced meat and salad sandwiched between flatbread so that it could be eaten on the move. A Turkish immigrant to Germany, his stall became a popular place for Berliners intent on finding something to offset the effects of large quantities of beer. Many other people have been credited with the idea, but Nurman's achievements were recognised by the Association of Turkish Doner Manufacturers in 2011. The dish is popular throughout Europe with UK consumers preferring it to be topped with a hot chilli sauce. Nurman was somewhat disparaging about modern versions, claiming they had too many ingredients.
Comedienne Marcia Wallace provided the voice of Edna Krabappel, the jaded teacher in the cartoon series, The Simpsons. The character's continuing, and often fruitless, search for a romantic relationship was a recurring theme. Wallace joined the programme in 1990 and such was her impact that she won an Emmy for Outstanding Voice-Over performance two years later. She cut her teeth on the stage and TV before landing the role of Carol Kester, the acerbic receptionist in the Bob Newhart Show, which gained huge audiences on US television. She followed that up with three decades of appearances on game shows as well as guest parts in a number of series including Taxi, The Brady Bunch and Magnum PI. She never lost touch with the theatre and appeared in a string of performances including The Odd Couple, Steel Magnolias and the Vagina Monologues.
"In the world of the future wars will no longer exist but there will be Rollerball." Such was the vision of novelist William Harrison in his short story Roller Ball Murder. It describes a time when giant corporations run a world where individual achievement is stifled. There are no conflicts and all team games have been replaced by a bloody sport called Rollerball, where the aim is to kill your opponents. A film adaptation was released in 1975, directed by Norman Jewison, with Harrison writing the screenplay. Another of his books, Burton and Speake, based on the search for the source of the Nile, was also filmed as Mountains of the Moon. Harrison was a great believer in encouraging young writers and founded a creative writing course at the University of Arkansas where he moved in 1966. He won a number of awards for his writing including a Guggenheim Memorial Fellowship in Fiction.
Jillian Lane used a team of "spirit guides" to bolster her claim to be Hollywood's number one celebrity psychic. She became known for her friendship with Michael Jackson, who reportedly invited her to Los Angeles after ringing her premium rate psychic line for advice. Over the ensuing years, until Jackson's death in 2009, Lane met regularly with the star, usually slipping into his mansion in the small hours to avoid the press pack parked outside. She also described how she and Jackson would drive around Beverly Hills in the middle of the night while he poured out all his problems to her. It was a strange journey for a girl born into a Catholic family in a working class area of Cardiff, who claimed to have had an out-of-body experience aged seven. She claimed to have helped many other Hollywood stars but steadfastly refused to name them.
In the world of dogs they didn't come any bigger than Giant George, a Great Dane from Arkansas who was officially the world's tallest dog. Standing 43" (110cm) from paw to shoulder, his record height was officially certified by Guinness World Records after a representative was sent to George's home with a tape measure in 2010. He became something of a canine celebrity, with his own website and a legion of fans. Flown to appear on Oprah Winfrey's show, George was given three seats on the plane so he could sprawl at full length. He needed his celebrity earnings to pay the bill for his dog food, 110lbs of which he consumed every month. In September 2012 it was announced that his reign had been ended by another Great Dane called Zeus who is just 1" (2.5cm) taller. Like most Great Danes, George was not destined for a long life and died aged just seven.
Among others who died in October were:
Lou Reed, singer and songwriter
Anthony Caro, eminent sculptor
Noel Harrison, singer and one-time Olympic skier
Phil Chevron, Pogues' songwriter and guitarist
Vo Nguyen Giap, Vietnamese general
Tom Clancy, author of The Hunt for Red October