Close of play for cricket's film show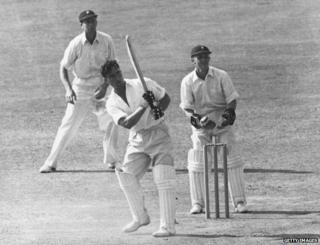 The British Film Institute has cancelled its annual cricket exhibition after three decades. With the Ashes under way, is the game losing touch with its past?
Denis Compton was nearing the end.
The legendary England batsman, now in his late 70s, was no longer nimble. The right knee that had been famously fragile during a 28-year career had given up the struggle to carry his body unaided.
But just a few feet ahead of him, on the screen of London's National Film Theatre, was a reminder of better days half a century earlier.
Compton, the Middlesex genius who had also played football for Arsenal, watched a film including footage of the 1947 summer when, his dark hair slicked down with Brylcreem, he lightened the post-war austerity with his shot-making.
"It was so poignant," says the show's researcher and presenter, David Frith.
"Denis was now old and far from well. He sat in the front row with his wife and two daughters and there we were showing him with his bat on high in 1947, when he made nearly 4,000 runs. I was looking down from a shadowy corner of the stage and I could see poor old Denis looking up at his young self on the screen and his eyes were a little bit watery.
"When he got up to leave at the end, he was mobbed. Everyone still wanted his autograph, to shake his hand. He was such a genial fellow. That was just about as memorable a night as you could have."
Compton, his deeds witnessed by those too young to have seen them in person, died a few months later in 1997.
Other sights on offer since Mr Frith first put on the show in 1981 have included WG Grace, the giant of the Victorian era, parading with the Gentlemen's team at Lord's.
The earliest known cricket footage in existence, that of the silkily smooth Sussex and England maestro KS Ranjitsinhji batting in 1897, often featured.
The former England wicketkeeper Godfrey Evans once "added some sound effects with a few gins in him - he was absolutely spot on", says Mr Frith.
One another occasion, retired players including Mr Evans and medium-pace bowler Alec Bedser, took part in a talk to accompany a silent film on the 1950-1 Ashes.
During the summer of 1997, Australian players Steve Waugh, Ian Healy and Michael Slater came along to watch their predecessors in action.
Clyde Jeavons, a cricket aficionado himself and former curator of the National Film Archive, helped shape the programmes and introduced and closed every show.
Mr Frith is concerned the cancellation of British Film Institute's annual cricket exhibition will mean that future fans will not get the chance to see much of the game's heritage.
The 76-year-old author and historian, who has won the Cricket Society's Book of the Year award three times, says: "I don't see the reason behind killing off a full-house event. Maybe it's ageism. Maybe they didn't trust me to go on until I was 80 or more, but I would certainly make it clear if I wasn't up to it."
He says it hurts that people might think he decided to stop the show without telling them. "I love it so much that I don't think I would ever have pulled the curtain down," he says.
Mr Frith, who lives in Guildford, Surrey, wrote to Greg Dyke, the chairman of the BFI, for an explanation.
Mr Dyke's letter of reply said the organisation was "revitalising and refreshing" its programme.
It added: "We greatly appreciate your efforts with the cricket evening and we assure you that the decision to bring this remarkable innings to a close was not taken lightly, but all things change and the circumstances under which we are presenting the programme at the Southbank dictate that we must make difficult decisions."
Ex-cricketers were not the show's only famous attendees. Film star Peter O'Toole once came, along with playwright Harold Pinter.
"After the show [Peter O'Toole] came up to me and said one of the most touching things I've ever heard. He told me: 'The thing is to know when to talk and when to stop. Well done.' It doesn't get better than that," says Mr Frith.
Audience members also approached him with their own treasures.
"People at last knew where to come with old cricket film. A lot of old players took film on tour with their 16mm cameras and handed them down.
"Once a chap came down with a little colour reel and it was the 1938 Oval Test, where Len Hutton made his (record-breaking score of) 364 - in colour. That was heartening because I thought there must still be a lot of material tucked away out there," he says.
Perhaps cricket's greatest ongoing controversy is over whether certain bowlers have "thrown" the ball, bending their arm before releasing it rather than keeping it almost straight throughout as the game's laws demand.
Sri Lanka's Muttiah Muralitharan, the world-record Test wicket-taker, was no-balled repeatedly for the offence in 1995.
Almost a century before, in 1900, Lancashire and England's Arthur Mold suffered the same fate but, whereas film of Muralitharan's action exonerated him, it suggested that those who had hounded Mold into an early retirement had been correct.
Mr Frith came across some film of Mold bowling to ex-Lancashire batsman AN Hornby, then in his fifties, in the nets in 1901. "It showed he really did chuck the ball," he says. "They didn't have the brilliant technology of today's TV coverage, but the power of film to prove or disprove things was already there."
Another of the most important discoveries of the last 32 years was a fragment of Australian batsman Warren Bardsley's 193 against England at Lord's in 1926, then the highest Test score on the famous London ground.
"You are watching him slash a square cut, run a couple of singles, and suddenly bubbles appear on the film, then it's gone. They caught it just in time to save that square cut. No matter how well someone describes something, you see the reality on film. That is the truth," says Mr Frith.
"Once it's gone, it's gone forever. So the whole film show was bit of a mission and it was from the heart. Showing cricket to enthusiasts is what I was born to do."
Denis Compton would have said the same.
Follow @BBCNewsMagazine on Twitter and on Facebook