Been and gone: Underwater TV pioneer and the man who built Roger Waters's Wall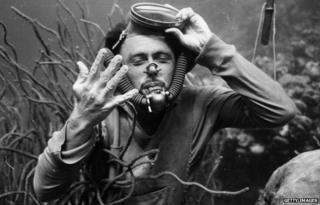 Our regular column covering the deaths of significant, but lesser-reported, people in the past month.
In 1956, the diver Hans Hass gave TV viewers their first ever glimpse of life under the sea. Diving to Adventure was the first underwater series ever screened on the BBC, although much of the colourful world beneath the waves was lost in the black and white transmissions of the time. It was an instant success and the first of many such series filmed by Hass and his glamorous wife, Lotte, who became a big attraction in her own right. Austrian-born Hass began diving in his teens and quickly developed an interest in sharks, about which he would become an acknowledged expert. His original intention to become a lawyer was ended when he was conscripted into the Wehrmacht's crack team of frogmen during the war. He subsequently trained as a zoologist and developed a passion for research which was funded by his films.
Mark Fisher used his architectural skills to design sets for some of the world's biggest rock bands. Not content with a few lasers and a smidgeon of dry ice, Fisher's designs turned music concerts into visual extravaganzas. When Roger Waters performed The Wall in Berlin in 1990 it was the biggest set in rock history, in which 30ft high inflatable figures swayed across the top of a giant wall created with 2,500 expanded polystyrene bricks, later recycled for roof insulation, all at a cost of $16m (£10.5m). His partnership with the Rolling Stones saw him design their sets from 1989 onwards, including Steel Wheels and Bridges to Babylon. His genius was to use pre-fabricated parts which meant sets could quickly be erected and dismantled without lots of scaffolding and huge teams of workers. Fisher was responsible for the set of the Millennium Dome show in 1999 and the backdrop for the opening and closing ceremonies of the 2008 Olympics.
The sound of Roger LaVern's keyboards helped The Tornados become the first British group to top the US singles charts with an instrumental called Telstar. It was named after the recently launched communications satellite and had sound effects meant to evoke the new space age. The group started life as Billy Fury's backing band and LaVern, originally named Roger Jackson, was playing piano in a cinema when his landlady suggested he audition for producer Joe Meek, composer of Telstar, who was looking for a new keyboard player. As instrumentals went out of fashion the group split and he moved to Mexico where he appeared in a number of films. A striking looking man, he married eight times. He later remembered being dismissive of Telstar. "Quite frankly, I thought it sounded like Mickey Mouse music. But when the fame started, I got to like it."
The worldwide appeal of the Swiss Army knife owes much to the strategic planning of Carl Elsener, who took over the running of the family firm, Victorinox, in 1950. Originally designed by Carl's grandfather, the knife, as the name suggests, was commissioned by the Swiss army with the proviso that it would have tools that could maintain rifles, open tinned rations and cut food. However, it was Carl who set out to expand the activities of the company. He came up with a host of new tools that could be packed into the little knife, from spoons to magnifying glasses and latterly, USB sticks and laser pointers. He also realised that the company needed to diversify and over the years, the white cross trademark appeared on luggage, clothing and perfume. This strategy helped after 9/11 when the ban on knives in airline luggage saw sales plummet, wiping out the only other manufacturer of the product.
"Golden girl" is probably one of the most overused cliches in sport but it could certainly be said to have applied to the runner, Donna Hartley. With her flowing blonde hair, she was a glamorous addition to the British 4x400m women's relay team which won bronze in the 1980 Moscow Olympics. It was her second fastest split of the race that snatched third place after the team seemed to be trailing. Her first Olympic appearance was at Munich in 1972, as Donna Murray, where she was the youngest competitor in the British team. In the 1978 Commonwealth Games she won gold, both in the individual 400m and as part of the 4x400m team. She was forced to quit athletics after continuing injury problems and spent a brief spell on the UK bodybuilding circuit. She later ran a line dancing school and managed a health spa in Cheshire.
In the BBC's much-acclaimed political drama, House of Cards, the role of the Prime Minister, Henry Collingridge, was played by the actor David Lyon. The essentially decent and straightforward Collingridge, in complete contrast to Ian Richardson's scheming Francis Urquhart, was a reflection of Lyon's own character. An extremely popular man among his peers, he was a late arrival to the acting profession, only attending drama school at the age of 30, after a series of dead end jobs. He cut his teeth in amateur theatre and then in rep before joining the Royal Shakespeare Company in 1976. He also became one of those faces on TV that everyone recognises, but cannot always name, appearing in a string of dramas including The Bill, Taggart, Lovejoy and Midsomer Murders. He appeared in several episodes of the gritty police series, Behind the Lines, as Commander Brian Huxtable.
A bar of the Grenada Chocolate Company's finest produce will cost you more than £5 but Mott Green made it his mission to give the producers a fair share of the profits. An active environmentalist since he was a teenager Green dropped out of university and lived in squats with a community of anarchists. He moved to Grenada where he lived in a homemade bamboo hut and discovered the local "tea" brewed from chocolate beans. He set up his chocolate making company in 1999, using environmentally friendly production processes and organic beans. In an industry where middlemen take a large slice of the profits and child labour is still common, Green ensured his growers got properly paid for their produce and the quality of the final product won a host of awards. He even exported his chocolate in a sailing ship to underline its environmental credentials.
Also missed in June: