Caption Challenge: Giddy up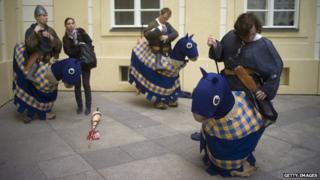 Winning entries in the Caption Challenge.
This week actors in Prague fix their costumes before a procession to honour Holy Roman Emperor Charles IV who was crowned on June 4, 1365.
There is still no prize, except the traditional small quantity of kudos to the following.
6. Paul Hampton
Health and Safety ruin another traditional jousting event
5. robanddav
I've called him Laryngitis because he's a little horse
4. Chris O'Brien
A sombre scene as Humpty Dumpty's medical team prepare for a risky surgical procedure
3. Max Grieve
Knights of the Round Tablecloths
2. Sid Swift
Well, everyone has to have a hobby
1. David
After Death quit the band, the rest of the Horsemen of the Apocalypse decided on a change of direction
Full rules can be seen here
[16KB]