In search of a mystery yodeller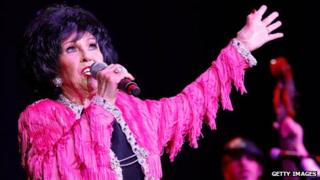 During a round-up of the Sunday papers on Radio 4's Broadcasting House, the programme inadvertently cut to a snippet of Jesus Put a Yodel in My Soul. But who was the yodelling singer?
We don't play as much yodelling on BBC Radio 4 as we ought to. It is an ancient art form heard from the Alps to the Appalachians, the plains of Oklahoma to the jungles of central Africa.
The signature technique - a swooping oscillation from low notes to high and back to low again - is common to all of those cultures.
It is intricate and lyrical, although I suspect it's also one of the most polarising of art forms. Some people are struck by how hard it is - others just wish it was impossible.
The comedian Billy Connolly appreciated the art and first identified one of its most curious characteristics - when the lyrics of a yodelling song are printed, every individual yodel is fully spelled out.
Here, for example, are the lyrics of She Taught Me to Yodel by the Australian crooner Frank Ifield as they appear in the sheet music:
"She taught me to yodel / Yodel-oh-ee-dee / Diddly-odel-oh-ee-dee / Diddly-odel-oh-ee-dee. She taught me to yodel / Yodel-oh-ee-dee-ay-dee. Yodel-oh-ee-dee-yodel-oh-dee."
Anyway, a week ago Broadcasting House unintentionally redressed Radio 4's long-term yodelling deficit when a technical hitch meant that part of the programme was replaced with a fragment of a song called Jesus Put a Yodel in My Soul.
Briefly, we were famous. The incident made a question on the BBC quiz show Have I Got News For You and was reported in newspapers from Nigeria to Australia.
The singer was identified as Wanda Jackson - a stalwart of country music in the US who cut her first record back in 1954 and released a new album last year in which she went back to her rockabilly roots.
We'd been expecting to do a piece which explored yodelling techniques and celebrated the public's love of those occasional glitches which take TV and radio stations off the air from time to time.
Instead, we found ourselves piecing together a story which roamed from innocent dates with the young Elvis Presley to the assassination of John F Kennedy. Heroin addiction, the mafia and ventriloquism all play their part too.
We found Jackson in Oklahoma, still going strong 59 years after she made that first record. She is country music aristocracy these days but is the soul of charm too - and remembered very well helping to write Jesus Put a Yodel in My Soul.
"I always yodelled," she said. "People just loved yodelling, so my husband challenged me: 'Why don't you write a yodel song, but make it about Jesus?' It's a signature song for me now."
The trouble was that when she yodelled down the line to us from her studio in Oklahoma, her voice was as crisp and pure as a prairie morning. It wasn't Jackson who had interrupted last week's Broadcasting House - there was something a little rough and ready about the yodelling we'd heard.
Still, she was fascinating. As a touring teenage singer she dated Elvis - and she recounted stories of evenings which would end back at his home in Memphis where he'd play rock'n'roll records and try to persuade her that was where her future lay.
"Our dates were not exactly conventional dates. My father who travelled with me, he liked Elvis, he knew he was a gentleman. So he would let me go out after our shows for a burger or Coke."
There was one minor breakdown of communication. When I asked if she and Elvis had canoodled, it turned out that she'd never heard the word.
"Canoodling? We had a platonic relationship, we liked each other much. Does that answer your question?"
So she wasn't our mystery yodeller. Further research led us to Beverly Messegee, an entertainer whose act includes ventriloquial yodelling with Erich, her inanimate sidekick.
It was her.
And if Messegee's yodelling lacks some of Wanda's silky precision, her life story more than makes up for it.
Her act these days is designed to bring people to Christ, in part through the use of the unlikely tools of ventriloquism and yodelling. But her story really begins back in 1963 when as a young woman she was standing just a couple of metres from President Kennedy's motorcade when he was assassinated in Dallas, Texas.
Vivid colour photographs capture her at the scene wearing a headscarf. She appears to have become the focus of mysterious stories about the so-called "babushka lady" whose identity was much discussed whenever conspiracy theories about the killing were raised.
Messegee loved America's handsome, charismatic young president and his violent death plunged her into years of darkness.
"I was a child, just 17," she remembers. "It just ravaged me. To see anyone have their brains blown out the back of their head 20ft from you is dramatic, but to see the president whom you love dearly murdered in broad daylight right in the town where you live is devastating."
There was heroin addiction and a first marriage to a man she describes as a hitman. It ended badly.
She puts it like this: "My first husband was George Albert McGann - the alleged leader of the Dixie mafia."
Dixie mafia? Was that a showband of some kind?
It wasn't.
"He was accounted with 19 murders himself," she tells me. "And when he was slain in a gangland killing he was shot four times in the back and in the abdomen once."
Eventually, Messegee saw the light and with her second husband - and Erich the ventriloquist's dummy - she travels the US bringing people to Jesus.
Her testimony is touchingly direct: "One night I was just driving around and saw a church. I wandered in and three nights later I accepted Christ as my saviour. He gave me a new life, a new song to sing, a new drum to march to and I've never been the same."
Prior to this, she had been marching to the beat of a fairly substantial heroin habit.
"I was shooting [up] at six-hour intervals, and I haven't had a fix since then. I have no desire to."
The modest technical error that put that snatch of yodelling into last week's programme had led us through extraordinary by-ways of Americana - like falling through a trapdoor into a wonderland of contemporary American history.
Jackson and Messegee both appeared in the following edition of Broadcasting House, talking about their lives with warmth and charm. It was an opportunity to play a bit more yodelling too (actually a lot more yodelling) and to play it on purpose this time.
It was perhaps a fairly minor cultural gap in the station's cultural arsenal that we were plugging. But it felt good to fix it.