Viewpoint: Crackdown on leaks won't deter journalists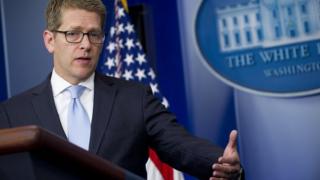 Leak-thirsty national security reporters will not be cowed by justice officials' seizure of Associated Press phone records, says Ilan Greenberg.
As journalists have pointed out, angrily, government officials have pursued six prosecutions of national security leaks to news organisations, an unprecedented number.
Not surprisingly, media organisations are now incensed by the government's inquiry into leaks of information to Associated Press reporters.
Yet it is not only reporters that are are upset.
The government's snooping into more than 20 phone lines of Associated Press reporters over a two-month period, as well as President Barack Obama and Attorney General Eric Holder's detachment from the investigative process, has struck a nerve.
People have described it as prosecutorial overreaching and as an inappropriate incursion into press freedom.
This has had a chilling effect on the reporting of national security matters, say administration critics.
In fact, the chill had already set in.
Journalists are finding it more and more difficult to cultivate the trust of whistleblowers, a consequence of the aggressive prosecutions that have already occurred.
This atmosphere of government intimidation predates the Obama administration.
Pulitzer Prize-winning New York Times reporter Eric Lichtblau said that he stopped covering the justice department in the last months of the Bush administration in order to avoid subpoenas that would determine the identity of his sources.
This latest investigation of people who work for the Associated Press may mean that even more frost will form on journalism in Washington.
Yet despite the chill - and in general the administration's failure to fulfil its promises to make national-security operations more transparent - journalism has been consistently robust.
Journalists have reported on the CIA's deployment of drones in Pakistan and the operation to kill Osama Bin Laden.
They have also produced articles about the unravelling relationship between Nato powers and local power brokers in Afghanistan and other stories, producing narratives on military and clandestine matters.
Administration officials seem to be of two minds about its record of criminalising leaks.
They have already prosecuted more government leakers than all previous presidencies combined.
Holder has said that he was surprised to learn his department has pressed an unprecedented number of prosecution cases against leakers.
He has also expressed regret at the idea that his department's leak cases under the 1917 Espionage Act would be considered part of his legacy.
But at the same time Holder has defended and even touted his department's relentless investigations into leaks.
At a press conference on Tuesday, for example, he characterised in dark terms the haemorrhaging of classified information to the Associated Press about a secret CIA operation in Yemen to thwart a terrorist attack on an airliner.
This leak of information, he said, "put the American people at risk, and that is not hyperbole".
But despite Holder's drive to stop leaks, the record of journalists during previous administrations was far less impressive than under the Obama White House.
Unlike the recent illuminations on classified operations, alleged CIA imbroglios during the Reagan administration were still opaque in the 1990s.
This was demonstrated in a flawed and disputed journalistic investigation into a supposed CIA drug-smuggling operation out of Latin America.
In 1996 the San Jose Mercury News reported that California drug dealers had funnelled millions into a CIA-run guerrilla army in Latin America. US officials identified errors in the reporting.
National security reporting has thrived, at least in part, for the same reason the justice officials have found leaking so difficult to stop - the greater accessibility of sensitive information that has been pushed into electronic databases.
As Wikileaks has shown, just about anyone with a security clearance and a grudge can send out millions of files with the push of a button.
The Associated Press investigation, coming on the heels of scandals involving the IRS and questions about Benghazi, threaten to engulf the Obama administration's second term just as it has begun.
Despite an overreaching justice department and an increasingly repressive environment toward leakers, no such crisis seems imminent for national security reporting.
Ilan Greenbergis a professor at the Bard Globalization and International Affairs Program in New York and a former public affairs scholar at the Woodrow Wilson International Center.