Tweets of the week: IRS, Beyonce's baby and Bea Arthur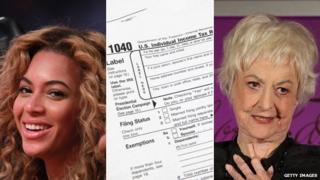 For the week ending 17 May, here is a look at the news making waves in America - all in 140 characters or less.
1. Oh my. Dick Morris says IRS scandal could lead to Obama's impeachment. Which means...it won't.
The Washington DC editor of Mother Jones, David Corn (@DavidCornDC). Morris, whose faulty political prognostications been much lambasted, read the tea leaves after it was revealed that the Internal Revenue Service targeted conservative groups.
2. I sympathize with POTUS on "going Bulworth". Who among us hasn't fantasized about freestyle rapping and late 90s Halle Berry?
National Review Online writer Daniel Foster (@DanFosterNRO). A New York Times article revealed that President Barack Obama sometimes fantasised about "going Bulworth." The reference is to a 1998 movie in which a disillusioned politician played by Warren Beatty starts speaking his mind - but only after hiring a professional killer, played by Berry, to assassinate him.
3. "I don't know, I don't know, I don't know." -all hearings this week.
Kate Nocera (@KateNocera) of Buzzfeed reports from Capitol Hill. Despite several hearings on everything from the IRS to Benghazi, few answers have been forthcoming.
4, Today in 2004, MA became the first state to allow same-sex marriage and now everyone there is gay and no children have been born since.
Internet humourist Pour Me Coffee (@pourmecoffee) celebrates the anniversary of marriage equity in Massachusetts. Today, 12 states and the District of Columbia have similar laws.
5. Get over yourself, Toronto, DC's mayor was into crack DECADES ago.
GristList editor Jessica Zimmerman (@j_zimms) after Toronto mayor Robert Ford was allegedly filmed smoking crack cocaine. In the 1980s, Washington DC Mayor Marion Barry spend time in jail after a similar predicament. He still serves in the city's government.
6. The only thing that stops a bad guy using a smartphone during a show is a good guy prepared to chuck it.
New York Daily News editorial editor Josh Greenman (@Joshgreenman). This week, an arts critic wrote about his run-ins with a woman using her phone during a musical performance. When she refused to put it away, he threw it across the theatre. He was later asked to leave the performance.
7. When you see it in my office, you'll agree...worth every penny
ABC News reporter and anchor Bill Weir (@BillWeirABC) after a painting of a topless Golden Girls actress Bea Arthur sold at auction for $1.9m (£1.25m)
8. What's the world coming to when you can't even trust someone who goes by the name "Kai, the Hatchet Wielding Hitchhiker."
Mother Jones Reporter Tim Murphy (@timothypmurphy). The travelling man who found internet fame last year after using a hatchet to defend a woman under attack was arrested for murder this week.
9. Well it's official - Blue Ivy is THE OLD ONE.
Comedian Billy Eichner (@billyeichner). Singer Beyonce is reported to be pregnant, and her daughter Blue Ivy is thus poised to be a big sister.
10. Venezuela claims it's short 40 million rolls of toilet paper. Hopefully it can reach under the stall and borrow some from Colombia.
Colbert Report host Stephen Colbert (@StephenAtHome). Venezuela hopes to import foreign toilet paper to help end the shortage.
Some tweets have been edited for style or clarity.