Who, what, why: Can police stop protests at Margaret Thatcher's funeral?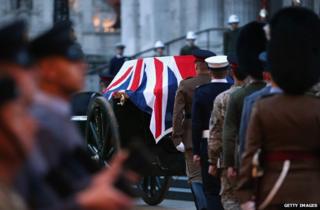 There has been widespread speculation that protests will take place during the funeral of former British Prime Minister Margaret Thatcher. But what laws will be in force?
At some point on Wednesday, as Baroness Thatcher's coffin passes by, Rebecca Lush Blum is planning to turn her back in protest against Thatcherism and what she sees as a waste of public money on an unjustifiably grand funeral.
Lush Blum hopes people will join her protest, which she's been promoting via Facebook. She has contacted police in advance.
"It's the first time that I have asked the police about whether I can protest and they said yes," says Lush Blum, who was briefly jailed 20 years ago when she defied a court order aimed at curtailing the Twyford Down anti-road protests.
"So far, the police have bent over backwards to be ultra-reasonable. I want to perform a peaceful 'back-turning' protest but I want to do it as far away as possible from mourners. That's mostly agreed with the police - the last thing I want to do is be part of a confrontational demonstration but I want to exercise my right to protest peacefully."
There are at least six major pieces of legislation that have a role to play in policing any type of protest.
But in legal terms, they all come down to a balancing of rights.
Under the European Convention on Human Rights, people have the right to freedom of assembly and freedom of expression.
Those rights are not absolute - they can be infringed if the state has a lawful reason to do so. And that reason has to be reasonable and proportionate to achieve some greater good.
So, police can impose conditions on marches in the name of public safety and, in extreme circumstances, a local council can seek to ban a march.
Constabularies can deploy tactics during a protest, including the use of force and "kettling" - a form of containment that can separate demonstrators from each other or from entering particular areas.
The courts take a nuanced view on these things - senior judges have long accepted that decisions are difficult to take.
Back in 2003, Gloucestershire Police stopped two coachloads of Iraq war protesters from reaching an RAF base. The UK's then highest judges, the Law Lords, decided that officers had no right to order the coaches to turn back to London.
But the pendulum can swing the other way. The Metropolitan Police was criticised for kettling peaceful protesters at the 2009 G20 Summit protests - but judges ultimately decided the tactic had been used lawfully because the operation's commander saw a greater risk that had not been apparent to the contained demonstrators.
After the controversies surrounding the G20, including the death of one man who was pushed over by a police officer, Her Majesty's Inspectorate of Constabulary (HMIC) drew up a complicated-looking flow-chart explaining how police forces should make decisions about facilitating protest.
Chiefs were told to ask simple questions. Is the proposed protest peaceful? Do officers have "compelling and demonstrable" information that it might turn violent?
If there's no intelligence of violence, police must, in law, presume that it will be peaceful.
But if they have credible information of some risk to the public, officers can use powers of arrest and force - providing they use the minimum necessary in the circumstances.
The key issue for something like a protest at a funeral or state occasion would be how police interpret Section 5 of the Public Order Act 1986, says Paul Ridge, an expert in public order law and protest with law firm Bindmans.
This law says that someone is guilty of an offence if they use "threatening, abusive or insulting words or behaviour" that is likely to cause "harassment, alarm or distress".
What if someone booed the coffin and that distressed a mourner? More importantly, is a mourner more likely to be distressed than your average observer?
"What's abusive or insulting is the key thing because that's where the police could say that some forms of behaviour could be insulting," says Ridge.
"The difficulty, of course, is that it is a highly subjective matter. The police would never give you a list [of what falls on which side of the legal line] because they don't want to be hemmed in."
The government has already agreed to remove the word "insulting" from section 5 of the act - but the change hasn't come into force yet because it's part of a bill stuck in Parliament for entirely different reasons. Someone who intentionally sets out to cause distress by being insulting - such as racist chanting - would still commit a crime.
Where does that legally leave any protesters on Wednesday? Well, the law aside, the HMIC say that the most important skill that any officer needs in these kinds of situations is simple - the use of discretion.