Tweets of the week: Same-sex marriage, Jon Hamm and Jay Leno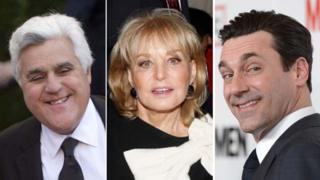 For the week ending 29 March, here is a look at the news in America - all in 140 characters or fewer.
1. Should old people be allowed to get married? They can't have kids, BUT they were around before the internet & cellphones. Tough call.
Blogger Jill Filipovic (@JillFilipovic) applies some of the logic on display during the Supreme Court's hearing on gay marriage to elderly Americans.
2. North Carolina and Kansas are playing the late Sunday game. But ... but don't these young men have *class* tomorrow? (I kid, folks. I kid.)
Blogger Andrew Exum (@abumuqawama) questions the veracity of the "student athlete" label given to young men playing in the US college basketball tournament.
3. Even if asked I will not take over The Tonight Show, however I would be open to running Syria.
Comedian Albert Brooks (@AlbertBrooks) comments on the latest rumours that The Tonight Show will once again try to replace Jay Leno with a new host, a process that proved fraught the last time around.
4. I'm so glad to see all my friends adopt the same avatar. I was worried my social circle extended to people who don't agree w/ me.
The "data nerd" known only as Political Math (@PoliticalMath) is unimpressed by the many people who changed their Facebook profile photos to a pink "=" sign to show support for gay marriage.
5. Barbara Walters to retire in 2014. Americans wonder who will tell them which overexposed people are 'fascinating.'
Copywriter Mark Campbell (@MrWordsWorth). Chat show host Walters, who presents a Most Fascinating People programme, will end her career after 61 years.
6. I bet those singing Judds could at least make it to County Assessor.
Denver editor of PJ Media, Stephen Green (@VodkaPundit). Actress Ashley Judd announced she would not run for Senate against Mitch McConnell in Kentucky, but Green has hope for the rest of the family.
7. God, I wish Jon Hamm's answer to questions about his penis were a five-minute monologue ending with, "It's not a penis. It's a carousel."
Television writer Tim Carvel (@timcarvel) offers advice to Mad Men star. Hamm has faced uncomfortable questions in the press after reports surfaced that his anatomy caused a "distraction" on set.
8. Ways to let the N Koreans know we mean business: 1) Reiterate rollback policy on nukes 2) Fly B2s over S Korea 3) Mail them Rodman's ear
Political scientist Ian Bremmer (@ianbremmer) jokes the real way to respond to North Korea's escalating threats is to mutilate Dennis Rodman, the former professional basketball star who visited North Korea last month and came away with a favourable impression of the country's leadership.
9. My Buzz Bissinger story is just that I have 27 identical white v-neck tshirts.
GQ assistant editor Mark Byrne (@markwby) cannot compete with the journalist Buzz Bissinger, who wrote a feature in the magazine confessing to a shopping addiction. He says he has spent more than $600,000 on leather jackets, pants, gloves and other designer goods.
10. "Old people get to use old-timey racial slurs, I thought? Are we not doing that anymore?" -- Rep. Don Young
New York Magazine's Dan Amira (@danamira) imagines the rationale used by Republican Alaska congressman Don Young, who used a derogatory term when discussing Hispanic migrant workers.