Great escapes: The most daring prison breakouts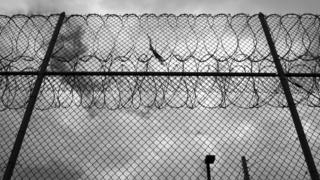 Two Canadian inmates who escaped from prison by grabbing a rope attached to a hovering helicopter are due in court. Theirs was the latest in a long line of dramatic breakout attempts.
It was a brazen move - inmates Benjamin Hudon-Barbeau and Danny Provencal escaped from St-Jerome prison near Montreal, Canada, in a helicopter.
Soon afterwards, though, they were both recaptured.
Still, they got out, joining an elite group of escapees from around the world.
Among the roughly 1,500 medium- and maximum-security facilities in the US, for example, only 50 people manage to flee each year, says Paul Wright, editor of Prison Legal News.
"One thing the US does well is locking people up and keeping them locked up," Wright says.
Sometimes people do break out - though usually in less dramatic fashion than in the Canadian incident.
Arnett Gaston, a former commanding officer at Rikers Island prison in New York who also served as director of corrections in Prince George's County, Maryland, recalls a night in the 1970s when seven prisoners climbed out of the windows of a Maryland facility.
"I got a call at 02:00," he says. At the time he lived a 20-minute drive from the prison. "I immediately went in," he says. "I made it in less than 10."
The prisoners were recaptured - and the prison beefed up its security.
Former prisoner Stephen Richards says he knew convicts who had escaped from their minimum-security prison in Kansas in the 1980s.
"They would iron their clothes and pack their knapsack," says Richards, now a criminologist at University of Wisconsin-Oshkosh. "Then they would walk off."
If they are lucky, they remain free. Escaping from prison is a felony in the US, and prisoners who have escaped serve longer sentences. In Mexico, though, escaped convicts are not penalised further - they are simply put back behind bars.
"They're like, 'Well, everyone wants to be free,'" says Wright.
Here are eight daring escapes from around the world - and the men and women behind them.
By helicopter
Convicted killer Pascal Payet used helicopters to orchestrate escapes from French prison on multiple occasions.
He broke out in 2001 using this method. In 2003, he helped friends escape the same way. Despite being one of the country's most closely watched prisoners, he managed a third airborne departure in 2007.
In February 2009, Vassilis Paleokostas and Alket Rizai, convicted of armed robbery, escaped from a Greek prison - also for a second time.
They used a rope ladder to climb to safety and were whisked away in a helicopter.
Help from the outside
Black Liberation Army leader Joanne Chesimard broke out of the Clinton Correctional Facility in Clinton, New Jersey, in 1979 with the help of armed members of her group.
They drove a van into the prison and then took her out.
Escape from Alcatraz
Frank Lee Morris and Clarence and John Anglin broke out of Alcatraz, an island prison near San Francisco known as "the Rock", in June 1962.
They attempted to float to freedom on makeshift rafts, but authorities say they almost surely died in the icy water.
Their bodies were never found. The episode was immortalised in the film Escape from Alcatraz, starring Clint Eastwood.
A makeshift rope
Jeffrey McCoy climbed down a rope made of sheets tied together to escape from Manhattan Correctional Center in New York in 1983.
He lived quietly in suburban New York for years before he was caught.
Used a can opener
In 2006, a convict, Ralph Phillips, tore open a ceiling with a can opener at Erie County Correctional Facility in New York and fled the building.
He was captured five months later.
Fleeing a Gestapo prison
Gen Andre Devigny crawled out of a cement floor at Fort Montluc prison in German-occupied Lyons in 1943.
Director Robert Bresson made the 1956 movie A Man Escaped about his experience.
Escape from Death Row
In November 1998, Martin Gurule, who had been sentenced to die in a prison in Huntsville, Texas, broke free, climbing two fences to make it out.
Several days later, his body was found. He had drowned in a creek.
Digging through a wall
Jose Espinosa and Otis Blunt broke through a cement wall of New Jersey's Union County Jail in December 2007, leaving behind a note taunting the guards.
"Happy Holidays," they wrote.