News tweets: Madonna, the Mars Rover and Team GB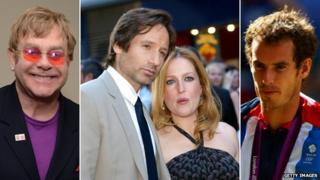 For the week ending 10 August, here is the news making waves in America - condensed into 10 topical tweets, some more serious than others.
1. Obama keeps emailing me about his birthday party, but I have yet to see the long-form birthday invitation.
Grist editor Jess Zimmerman (@scharpling). The president used his 51st birthday as an excuse to send out fundraising emails.
2. After winning hearts with his bubbling magnanimity at Wimbledon, I'd like to see Andy mix it up a bit with a bitter, surly victory speech.
Writer Irvine Welsh (@WelshIrvine) after the "dour Scot" Andy Murray defeated Roger Federer to win the gold in men's tennis.
3. Prank idea: When the Mars rover Curiosity returns to Earth, let's all wear ape costumes.
Curiosity landed on Mars after a 250+ day trip and will explore for a full Martian year (about 687 days). Curiosity is not coming back to Earth, thus thwarting any hope of the Planet of the Apes-style scenario envisaged by Twitter user nascarcasm (@chrisbrosnaha), a contributor to the sports website SB Nation.
4. OK this winning business #London2012 is getting addictive. We're going to have to invent a whole new British persona.
The BBC's own Katty Kay (@KattyKayBBC) after Team GB went on a gold rush. As of Friday, they were in fourth place for overall medals and third place for golds.
5. Romney Hood? Obamaloney? At this rate, I suspect the debates will be conducted in a ball pit or bouncy castle.
Parody account Sarcastic Jefferson (@SarcasticJefferson). President Obama accused Mitt Romney of robbing the middle class to pay for the rich, calling him "Romney Hood". Mr Romney responded that such accusations were "Obamaloney".
6. I would have had a much easier time getting through high school if I'd known Mulder and Scully would end up together.
Comic Louis Peitzman (@LouisPeitzman) after gossip magazines speculated that Gillian Anderson and David Duchovny, who both starred in The X-Files, are dating. A representative for Mr Duchovny denied the rumour.
7. When you're a country song writer, what Randy Travis did kind of qualifies as ... research.
Breitbart.com editor at large John Nolte (@NolteNC). Country star Travis was allegedly found naked and intoxicated on a highway in North Texas.
8. Usain Bolt: He can sprint sure, BUT CAN HE LUGE?!
Professor Amanda Bower (@HeyprofBow) wants to see the runner Usain Bolt star in his own version of the movie Cool Runnings at the Winter Olympics.
9. BREAKING NEWS: Record drought has severely impacted Farmville. Annoying game requests are down 78%.
Cartoonist Marshall Ramsey (@MarshallRamsey) sees an upside to the massive drought that is impacting US farmers.
10. When Elton John and Madonna fight, it's like homosexuality's parents are getting a divorce
Comic Louis Virtel (@louisvirtel), after John called Madonna a "fairground stripper" during an Australian news programme.
Some tweets have been edited for clarity