Running tunes: Readers share favourites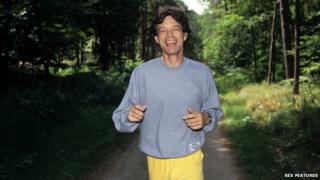 A Magazine article on Chariots of Fire - and whether it makes a good running track - generated a large response from readers.
The feature explored whether upbeat tunes helped motivate joggers.
Here, 25 readers share their motivational running songs.
Numb by Linkin Park is a great running track for me. As the last chorus kicks in it adds another 20% speed - irrespective of how long or how fast I have been running. Always has, I suspect always will.
I tend not to focus on BPM, for me it is more about lyrics - something powerful and challenging will always spur me on.
Matt White, Newcastle-under-Lyme, UK
Pruit Igoe, an instrumental track from Philip Glass's Koyaanisqatsi. It starts quite slowly but then moves to a pounding, loping gallop that is very evocative of overweight men running like their lives depended on it.
Luce Gilmore, Cambridge, UK
I'm a keen marathon runner and, like Andy Dixon of Runner's World, only listen to music on long runs. One of my personal favourites is Run For Home by the folk bank Lindisfarne. Like the band I'm a Geordie and the imagery of running back to Newcastle after being away from home really appeals to me.
It certainly spurs me on and when I hear the intro it definitely gives me extra motivation, especially when I'm finding it difficult or flagging after many miles.
Peter Foggo, Jarrow, Tyne & Wear, UK
It has to be I Won't Back Down by Tom Petty and The Heartbreakers. Makes you grit your teeth and get on with the task in hand, especially the hills.
Steve Wood, Edenbridge, UK
I had always wanted to run a marathon and admired those who did. So at 49 and overweight I got myself in to the gym and started to train.
When it was time to get out of the gym and on to the pavement, I would run to the tune of One Day at a Time - this gave me the strength to carry on. I completed that marathon three weeks before my 50th birthday with a big thank you to the singer, Lena Martell.
Meg, Edinburgh, UK
Alive and Kicking by Simple Minds - the drum breakdown in the middle of the song and the rise back up into the outro is worth waiting for. Also Thunderstruck by AC/DC. Solid drum beat pounding though the whole song. Makes you look a bit moody though.
Chris, Yeovil, UK
I ran the London Marathon this year for Scope raising over £5,500. I asked all my sponsors to nominate one running track for me to help motivate me through training and the race.
Favourites include Here I Go Again (Whitesnake) and the Grandstand theme tune. Songs like Crazy, Chasing Pavements and Panic were less appreciated.
Ian Mitchell, Fleet, UK
It has to be Elbow's One Day Like This. Not a high tempo track, but an emotional uplifting anthem that makes you feel a little bit happier with the world. Guaranteed to turn an arduous hilly 10km into a painless breeze around the park.
The final chorus has to be played as you approach the finish line of your next city marathon.
James Menzies, Exeter, UK
It has to be The Trap by Ron Goodwin, which the BBC has used for many years as the theme tune to the London Marathon. It's not only inspirational when you're running, it also gets you over the front doorstep - the hardest part of any training programme.
Richard Lee, Bridgend, UK
I've been tweaking my playlist for years. In my opinion, Pendulum knock out the perfect beat/beats per minute rate for my running pace. Too Many Rappers by Beastie Boys is the greatest feel-good running tune, and Robot by the Futureheads is also a lot of fun to run to.
Andrew Davis, London, UK
Chris Rea's Road to Hell - full of positive energy and dynamism.
Rebecca, Lampeter, UK
My favourite running music? Metallica - especially Broken, Beat and Scarred.
"You rise, you fall, you're down then you rise again. What don't kill you'll make you more strong. You rise, you fall, you're down then you rise again. What don't kill you'll make you more strong..."
It helps keep me going when I've really had enough.
Karen, Bristol, UK
I love to listen to Two Step by the Dave Matthews Band. It lasts for over 17 minutes (live version) and the sound of the audience cheering urges me along almost as much as the music.
Ian Southall, Clearwater, Florida
Hey boy, Hey girl by the Chemical Brothers - brilliant beat, just keeps me going.
Karen, Nottingham, UK
Loads of stuff on my iPod to choose from but one track I always use is Ennio Morricone's The Ecstasy of Gold from The Good, the Bad and the Ugly. If you want something current, right now I'm loving Spitfire by Public Service Broadcasting.
Gav, York, UK
During a tempo run Keane's Somewhere Only We Know provides a great beat to pick you up and keep you going. For a final fast five minute sprint try Muse's Map of the Problematique.
Gavin Jemison, Vitoria, Brazil
Fever by Sarah Vaughan (Adam Freeland Mix) - the same sound used in the film The Adjustment Bureau when Matt Damon is running away through the city's backdoors. Amazing song to run to.
Tom Wilkinson, Wales, UK
Get Off by the Dandy Warhols... just perfect for a fat lad who doesn't enjoy running.
Gavin, Plymouth, UK
I always start with Out of the Races and Onto the Tracks by Rapture. Isle of Her by Klaxons is a good one for mid-way through a long run. Tricky's version of Black Steel gives me the motivation to keep going towards the end.
Steven Sheppard, Peckham, UK
Kanye West's Stronger. Everything about that song helps me squeeze out that last drop of power speed I've got left.
Alexandra Rees, London, UK
My favourite is Gonna Fly Now (The original Rocky Theme) by Bill Conti.
Steve Jones, London, UK
British 1980s metal makes for a great running soundtrack. It's hard to beat the likes of Run to the Hills by Iron Maiden and Breaking the Law by Judas Priest.
James, London, UK
Step On by the Happy Mondays and Take on Me by A-Ha - they always make me smile and garner that second wind. If I choose music I can run to the beat of it always feels more like dancing than running.
Keri Smith, Griffithstown, UK
Best running track ever is London Calling by The Clash - the bass rhythm is perfect for firing up a good pace. Robbie Williams' Let Me Entertain You is also surprisingly uplifting.
James Lofthouse, Marlow, UK
ELO's Across The Border from Out of the Blue LP. Exhilarating even when sitting still.
Peter Goodman, London, UK