Steve Flaherty Vietnam war letters arrive 43 years late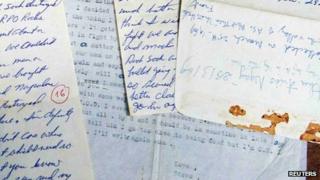 Forty-three years ago, US Army Sgt Steve Flaherty wrote a letter home to his mother from the jungles of Vietnam. On Saturday, his letters came home to the US.
Sgt Flaherty was born in Oiso, Japan, to an American father and Japanese mother.
Ronald Flaherty, stationed in Japan with the US Army in the early 1950s, convinced his parents to adopt Steve after meeting him in a local orphanage. Flaherty was nine years old when he came to the US.
He was raised in Columbia, South Carolina, and won acclaim at Dentsville High for his baseball ability. In 1966 he entered Bryan College in Tennessee on a baseball scholarship.
His uncle, Kenneth Cannon, said that Major League Baseball scouts had contacted him, but Flaherty chose instead to enlist in the army in October 1967.
Flaherty joined the 101st Airborne Division and was sent to Vietnam in 1968. He wrote home telling horrific tales of booby traps and fallen comrades.
"If Dad calls, tell him I got too close to being dead but I'm okay, I was real lucky," he wrote. "I'll write again soon."
Official exchange
Flaherty was killed in the A Shau Valley on 25 March 1969 at the age of 22. Before he was declared dead by US officials, Vietnamese soldiers took the letters from his body, says Robert Destatte, a retired defence department expert on prisoners of war and soldiers missing in action.
Four never-posted letters were confiscated from Flaherty's body and sent to Vietnamese Colonel Nguyen Phu Dat, who was responsible for directing propaganda messages for Radio Hanoi.
Dat would have lifted passages out of Flaherty's letters and read them on air in an effort to persuade American soldiers to refuse to go into battle, says Destatte.
In 2011, Destatte noticed a mention of the unsent letters in an online magazine Dat wrote on the website Bo Dat Viet Online, which loosely translates to "The Vietnam Nation."
With help from local police in the US, Destatte found Martha Gibbons, Sgt Flaherty's sister-in-law and the rest of the Flaherty family.
The letters were delivered to Defence Secretary Leon Panetta during his meeting with Vietnamese Defences Minister Phuong Quang Thanh in Hanoi on 4 June. It was the first official exchange of war artefacts between the two countries.
In return, Panetta gave Thanh the diary of Vietnamese soldier Vu Dinh Doan, which was taken by US Marine Robert Frazure after Operation Indiana in 1966. Included in the transfer were letters written by two other American soldiers killed in Vietnam; but the Army Casualty Branch will not release the identities of these soldiers until next-of-kin are located.
The family received the four unsent letters on Saturday. The letters were addressed to Steve's mother, Lois; Mr And Mrs Barnes, Flaherty's neighbours; the family of a classmate named Wyatt; and Betty Buchanan.
Betty, Destatte had discovered, was the younger sister of Coleen, a girl Steve had dated before leaving for Vietnam.
Although Steve and Coleen ended things before he shipped off to Vietnam, Betty decided to remain in touch, and the two exchanged letters.
The Flaherty family plans to donate the letters to the South Carolina State Museum.
"It's a miracle these letters have shown up after all this time," Kenneth Cannon told the Associated Press on Sunday in Columbia.
"They are in remarkable condition to be 40 years old," he said. "I know Steve would be glad they are back home."
Listen to more on this story at PRI's The World, a co-production of the BBC World Service, Public Radio International, and WGBH in Boston.