Been and Gone: The fireworks-maker and the beach volleyball advocate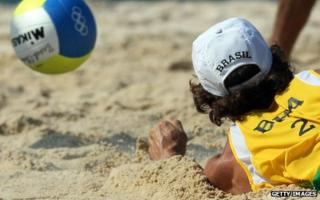 Our regular column covering the passing of significant - but lesser-reported - people of the past month.
John Deeker was responsible for some of the most spectacular firework displays that are now seen as an essential part of all manner of public events. Trained as an accountant, he joined the firework makers Pain's in 1959, but quickly discovered that he much preferred pyrotechnics to balance sheets. He trained himself in the art of large firework displays, and moved Pain's out of making small fireworks for the domestic market. He was managing director of the company in 1977, when it provided the spectacular firework display for the Queen's Silver Jubilee, and, three years later, he bought the firm for just £1 in good time to mastermind the fireworks for the wedding of the Prince of Wales to Lady Diana Spencer. Set against a background of Handel's Water Music, it was, at the time, one of the biggest displays ever mounted.
It has been described as "Baywatch with balls", and it was Eugene Selznick who played a major part in getting beach volleyball adopted as an Olympic sport in 1996. A former captain of the US men's volleyball team, Selznick organised an exhibition tour of beach volleyball in the early 1970s, which reawakened public interest. He made no bones about why people liked watching the sport, particularly the women's version, remembering that one of the highlights of playing on a beach was being able to watch girls in swimsuits. This aspect of the game has come under criticism from some quarters with the organisers of London 2012 allowing more conservative countries to dress their athletes in costumes that are less figure-hugging. Selznick also played a major part in promoting indoor volleyball by persuading the organisers to run their competitions according to international rules. The indoor version was adopted as an Olympic sport in 1964.
The pinnacle of racing driver Roy Salvadori's career came in 1959, when he won the Le Mans 24 Hours race, driving an Aston Martin in partnership with the late Carrol Shelby.
It was deserved success for the former car dealer from Essex, who had begun his racing career in 1949. He made his Formula 1 debut in 1952, driving a Ferrari, but struggled to make an impact. He moved on to driving a borrowed Maserati and gradually improved his standing in the sport, culminating in two podium finishes in 1958 and fourth place in the driver's championship. He was finally awarded a contract to drive a Cooper car in 1962, but the machine failed to compete with Colin Chapman's lightweight Lotus cars, which began to dominate the sport. Salvadori retired from Formula 1 in 1962, but came back to the sport four years later as manager of the Cooper F1 team.
Behind every successful musical act is a good manager or producer, and Gerry Bron fulfilled both roles for a string of artists. He began working for his father's sheet music business when he was just 16, but soon moved into production, working first with Gene Pitney and then producing hit singles for Manfred Mann, including Ha Ha Said the Clown and My Name is Jack. He also worked with Marianne Faithfull, and produced two albums for the anarchic Bonzo Dog Doo Dah Band, including the seminal The Doughnut in Granny's Greenhouse. His most successful collaboration was with the heavy rock band Uriah Heep, who he managed and who also became the mainstay of his label, Bronze Records, which launched in 1971. His own musical tastes leaned towards the classical, and he was a skilled clarinettist.
While Tenzing Norgay and Edmund Hillary actually reached the summit of Everest in 1953, it was Mike Westmacott who helped paved the way and then ensured the news was received in time for the Queen's Coronation. He had played a vital role in the ascent, finding a path through a series of treacherous ice cliffs and spent ten days keeping a way open for essential supplies to reach the rest of the team. It was down through these dangerous moving blocks of ice that he dashed with the coded message confirming that the world's highest mountain had finally been conquered. The climbing bug bit him while he was a student at Oxford, and he became a leading member of the British mountaineering resurgence following World War II. An essentially modest man, his wife only found out about his role in the Everest expedition when the story appeared in a book some years later.
Actor Anthony Bate's cool and controlled performances came to the fore in a series of espionage dramas, of which the most famous was the BBC adaptation of John Le Carre's novel Tinker Tailor Soldier Spy. In it, he played Oliver Lacon, the calculating civil servant who sets George Smiley on the task of uncovering a mole at the heart of British intelligence. It was a role he was to reprise in the later production of Smiley's People. The year before Tinker Tailor, he had appeared as the real-life spy Kim Philby in a drama produced by ITV. Bate cut his acting teeth in the theatre making his first West End appearance in 1960. He often played a villain in TV series such as The Avengers and The Saint. Later, he reinforced his bad guy image in A Touch of Frost, Poirot and Prime Suspect.
Among others who died in June were: